Hello friends! It has been almost two weeks since the 2016 SF Pen Show was held at the Sofitel SF Bay Hotel in Redwood City, California on August 26, 27, and 28, 2016. Oh what a great experience that was and I already miss it and cannot wait for next year.
I have never done any pen show recap/reports ever since I've been attending pen shows in 2014. So it took me a while to decide if I would do one this year, and if so, how would I present it? I was nudged by a couple friends to do so (y'all know who you are). And as suggested by a friend, present it in a chronological order. A fair warning though, I'm a photo-oriented person so this report will have a LOT of pictures and quite a long read. So I suggest you grab some popcorn or something. Haha!
This is the third year that the current show organizers have held the SF Pen Show. And each year, it has gotten better and better. I did have a unique multi-perspective of this show. I purchased a table to be a vendor, I am part of the SF Pen Posse, the local pen group who had a big part of volunteering to make this show a success, and the principal show organizers asked or "volun-told" me to assist with the coordinating of the paid classes, and free seminars. I've come to treat pen shows more as a social event focusing on seeing old friends, and creating new friends. And yes, as an attendee, seeing lots and lots of fountain pens is something I look forward to as well.
Thursday, August 25 – The Evening Before the Show
The SF Pen show organizers opens up the show ballroom the evening before to allow vendors to set up their table displays or just to let them know where their table will be. I arrived at the hotel around 6:30pm and saw the empty tables with just a few pen posse members hanging out. The show sold a lot of vendor tables this year. And I actually witnessed the hotel staff adding the very last table that was bought at the last minute.
The show organizers also held a reception/mixer for dealers, and special friends that evening. It was great to mingle and meet up with old friends. After the reception, a few friends from Southern California and myself just hung out at the hotel bar.
Friday, August 26 –  First Day of the Show
The big day has arrived! The San Francisco Pen Show opened for Dealers and All-Access Pass holders at 7:00am. The general public was let in later that day at 1:00pm.
I arrived at the hotel around 7:30am and the ballroom already had a good number of attendees. After doing some of my registration desk/seminar coordinator responsibilities, I immediately went to Mike Masuyama's table where he was already helping people with their nibs. I got to say hello and speak with Mike and his wife Emiko for a bit and got a number to be in line for nib work. I was number 19 and this was only at 8:00am. More on my nib-work with Mike later on the day.
Next stop for me was at Franklin-Christoph's table. I was curious to see what prototype pens they brought to the show and also I was asked by a friend from Nevada to purchase a specific pen from them. Guess who I found at the F-C table? It's Katherine! She was already being helped by Jim Rouse with her nib choice. She was at the hotel right before the show opened.
Afterwards, I needed to go back to the registration desk since Master Penman Michael Sull's Basic Spencerian class was about to start. This class was sold out a couple weeks before the show with a few people on a wait-list. Mr. Sull had another class later in the afternoon called Advanced Spencerian and that was well attended too.
Pen repair classes were also held by brother and sister, Joel Hamilton and Sherrell Tyree. There were three sessions: Basic pen repair, Vacumatic, and Snorkel/Touchdown.
While classes were in session, I got a chance to walk around the ballroom, chat with dealers and attendees, and take a few photos. At this point, I was really just scoping out what interesting pens would find me. ;-P
One of the first couple people I said hello to were Matt Armstrong of The Pen Habit blog, Brad Dowdy of The Pen Addict blog, and Lisa Vanness of Vanness 1938. Matt and Brad were there to help Lisa and Mike out at their table.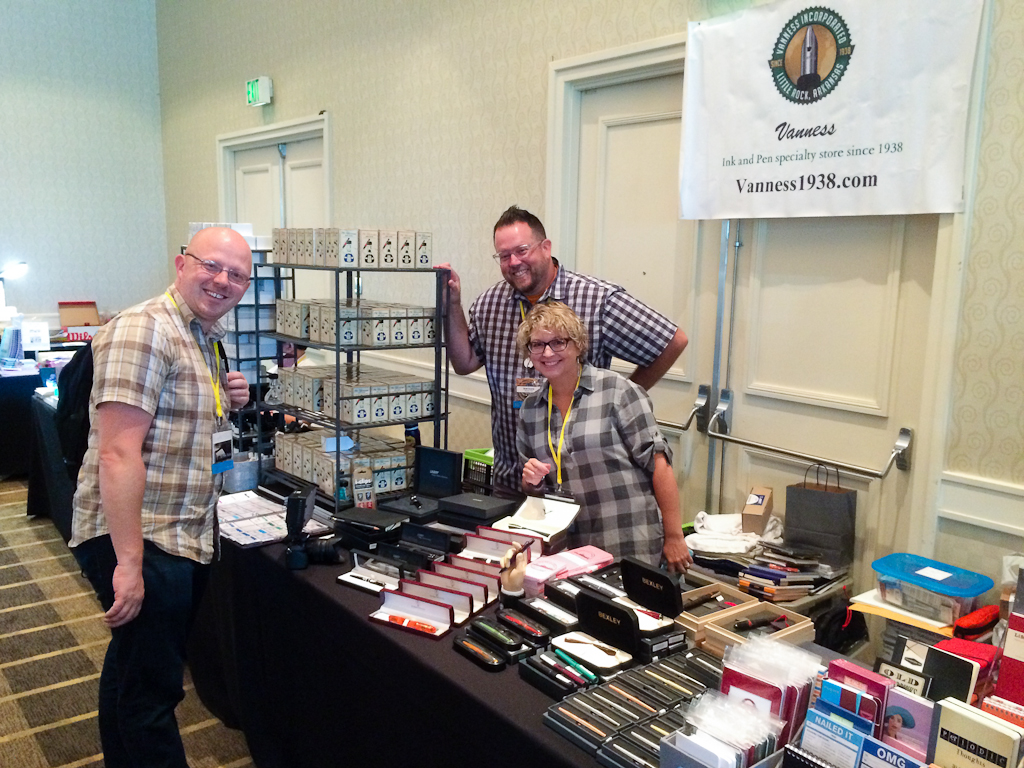 In the middle of the ballroom were the tables for the 14 Ink Testing Stations that contained 686 pens with 686 different fountain pen inks free for people to write with and see how the color looks. The SF Pen Posse donated ink samples and volunteers inked up each station before the show. Each station has 49 fountain pens.
First time pen show vendor, Troy Clark of Brute Force Design was there with all smiles. He drove all the way from Seattle and was one of the people I got to chat with last night as well. He gave me a nice pocket notebook. What a nice gesture. Thanks Troy!
Toys From The Attic returned to the SF Pen Show and they were right beside Franklin-Christoph. I first met Mario at the 2014 LA pen show and I look forward to seeing him at shows. He's brought some beautiful pens with him.
I moseyed on over to the back wall where the Wahl-Eversharp table was and said hello to Syd Saperstein and his wife Judi. It's always a pleasure to see them at pen shows. The Wahl-Eversharp pen company is the show's principal sponsor and Syd is one of the three show organizers.
Since I was focusing on vintage pens this year, I got a chance to ask him about the vintage Wahl-Eversharp Gold Seal, and Doric pens. I learned a lot from him even if it was just for a quick moment. A customer walked up and asked him questions as well.
Right beside the Wahl-Eversharp table was another pen show trademark. It was Susan Wirth's table. Susan and her team travels to almost every pen show in the United States. She loves writing with an italic nib (like myself), and almost all her pens for sale are inked up for everyone to try before they buy.
Wandering around more in the ballroom and I found Bill Weakley's table full of beautiful Namiki, Parker, Paul Rossi, and Pelikan pens. I first met him at the 2015 LA Pen Show. I'm so glad he attended this year's SF Show. He had a lot of pens that I wanted but were definitely over my budget. Haha!
Then I saw Stuart Hawkinson and Jim Leonard whom I met at last year's show. These are two guys who love restoring pens and like to share their experience.
Headed over to Ryan Krusac's table and admired his new line of Legend L-14. Also his limited Dangers of the Deep pens were quite tempting. I'm glad he got to attend the SF pen show this year and he brought along his wife, Julia. He was at the 2014 SF pen show but was unable to attend last year.
Revisited the ink testing stations and now it's getting busy.
Dan Smith arrived later in the afternoon from Iowa and he had an online signup sheet. One of his first customers was Joey Feldman from Los Angeles. It was a treat to see these guys at the show.
My Dad, Bert, visited the show in the afternoon and just wanted to see what was going on at pen shows.
While you're at the Ink Testing Stations, it's also a perfect opportunity to start conversations and make new friends. This was a brainchild of Ricky Chau, and the Ink Master, Loren S. since the 2015 SF Pen Show.
As it was getting close to the end of the first day, I was finally called for my turn at Masuyama-san's table. I had my vintage Skyline's medium nib ground into a smooth cursive italic. I also had my Pelikan M800 double broad (BB) nib tuned as it was skippy and had the baby's bottom issue. I've had my nibs tuned and ground by this man for the past 3 years and he knows exactly how I want my nibs. I rarely give the pen back after he's done with it the first round.
It's also always a delight chatting with Mike and his wife, Emiko. Talked about their trips to Japan and other pen shows.
Pen Addict Meetup – After Show Event
Right after the show closed at 7:00pm, there was a Pen Addict meetup event hosted by Brad Dowdy, the Pen Addict himself, and Lisa Vanness. It was an effort to get together with the people you've seen around the show during the day and just plainly talk pens, paper, inks, etc. The event itself was free, and you didn't have to attend the pen show to get in.
As you walk in, Brad handed out raffle tickets for some awesome giveaway prizes. They had some snacks as well. Alcohol was also served and available for purchase.
It was great to meet and chat with like-minded people. Around 8:00pm, Brad started the raffle and gave away awesome prizes. I do not recall each and every prize given away but here goes nothing: 2 Nock Co. cases, Lamy Dark Lilac ink, notebooks, empty Akkerman glass bottle, Joey Feldman poster artwork, notebook engraved with Joey Feldman's artwork, and a one-and-only Pilot Iroshizuku ink bottle engraved with the show's hashtag, #SFPenShow2016.
As the Pen Addict meetup ended, a few of the Pen Posse peeps left the hotel for dinner at Amici's Pizzeria in Redwood Shores. Needless to say, we were all famished and enjoyed some salad, pizza, chicken wings, and more pen conversations.
After dinner, we went back to the hotel bar and just relaxed. What a fantastic first day of the show. I went home shortly afterwards.
Saturday, August 27 – Second Day of the Show
Another exciting pen show day! For this day, the show once again opens for dealers and All-Access pass holders at 7:00am. And the general public will be let in at 10:00am. I arrived at the hotel around 8:30am so I definitely missed the breakfast provided for the dealers and All-Access pass holders. But no matter, I had a breakfast sandwich and Cold Brew coffee right before heading to the hotel.
I have to highlight the SF Pen Posse volunteers who signed up to man the registration and seminar desk from Friday all through Sunday. Without their generosity of time and effort, I'm not sure how the show would've turned out.
Across the registration desk in the foyer was Steve Curnow's table. This was a popular first stop for show attendees. Steve had a wide selection of notebooks, journals, and pens for sale. He also had a very limited edition San Francisco design journals at the show.
In the beginning of this report, I did mention that I was a vendor as well. Well the whole day Friday, my table was unused and empty. On Saturday, Edna, my Mom, arrived at the show and was selling some handmade earrings, and necklaces. Also, I let my friend from the Pen Posse, Fred, sell his SF Pen Show shirts at my table. I intended to sell pens but I just didn't have the time to sit at my table so I just laid out three pens in the middle with price tags. Katherine also placed her wooden pen blocks she made a few months ago for sale.
Tania at the Franklin-Christoph table had a free moment and we took a hand-comparison selfie. We've known each other online for a couple years now and we've always joked about our hand size difference.
I walked around the ballroom once again but this time, I reached the other side of the room which was dubbed, Anderson Alley. Brian and Lisa Anderson returned this year and enlisted the help of Jason, and Ana. They brought a lot of items from their store in Appleton, Wisconsin. I always find it a treat to get to chat with the Andersons during the shows.
I then saw one of the most knowledgeable pen person that I know. In fact, he has written quite a few books on pens including Fountain Pens of the World, and Fountain Pens of Japan. It's none other than Mr. Andreas "Andy" Lambrou of Lambrou Pens (formerly Classic Pens). His pen selection is quite exquisite and he collaborates with very artistic people like Mr. Paul Rossi, and Mr. Ryan Krusac, and others.
More wandering around…
I got to speak with Cliff Harrington about vintage pens. Cliff always has very rare (and can be pricey) pens. And he also has a wealth of pen knowledge to learn from. As I stopped by, I learned more about Waterman pens, Wahl-Eversharp pens, and Carters pen. He showed me a nice and rare Waterman Ideal Doll pen. As far as I know, there were only two of these pens at the SF pen show.
I found myself back at the Wahl-Eversharp table admiring the modern Decoband Gold Seal Oversized pens. And I had to take a photo of both Syd, and Judi.
The NibSmith still hard at work at his table. I actually signed up for his Saturday schedule on his website but because it got busy at the registration desk, I had to give up my spot for other people to have the opportunity and time to sit with him.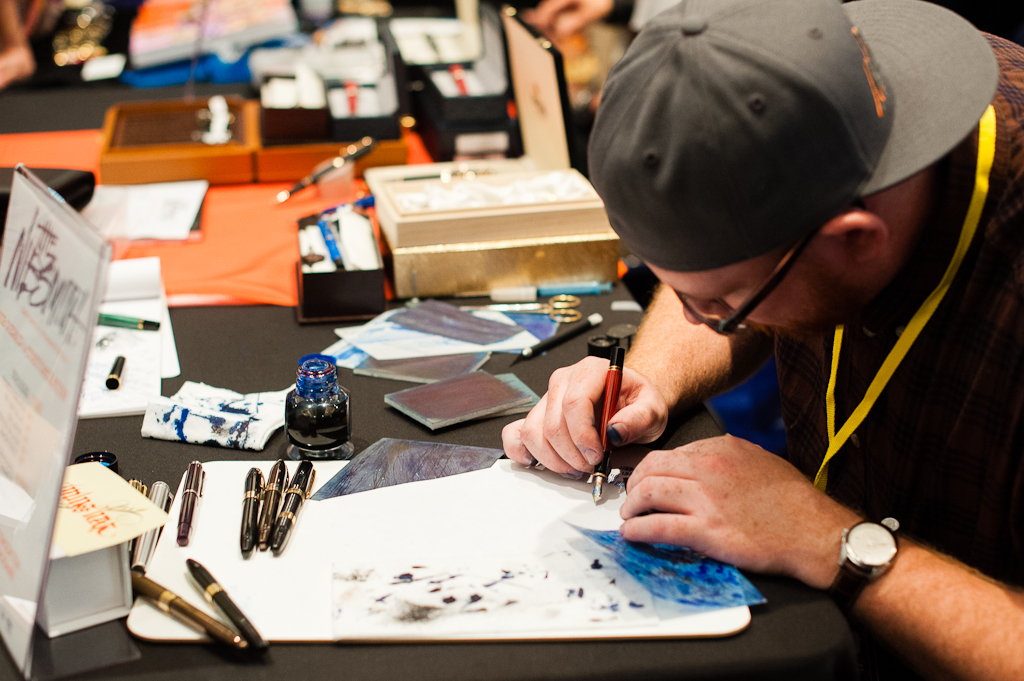 I stepped out of the ballroom to make sure all registrants got to attend Amanda McKay's Kick A$$ Snail Mail class, www.letterletter.com.
This class was the most attended and it was full with 30 people in the class. I'm one of the people that just sticks a stamp on an envelope, address it, and send it out. So I found this class quite helpful when I had a chance to sit in a little bit and learn from Amanda. There were a lot of questions asked with regards to Amanda experience on how the US Postal Service handled her well-designed envelopes.
Planner Meetup – Mid-Show Special Event
Right after Amanda's Snail Mail class was the planner meetup hosted by a few SF Pen Posse members. This is something new for the SF pen show and it was intended to be an informal hangout for people to learn about the different planner notebooks, strategies on how to use planners effectively (or ineffectively), and also to share stickers, stamps, and washi tape. This meetup was well attended. Three tables were occupied and lots of conversation happened. Tiffany from the Pen Posse gave me a roll of washi tape with a fountain pen design. Thanks Tiffany!
Quickly scoped out Joey Feldman as he was painting his poster artwork for people who bought at the Vanness table.
Back in the ballroom, door prizes were being raffled off. Including a very nice Pelikan M205 in Transparent Blue sponsored by Dan Smith, The Nibsmith.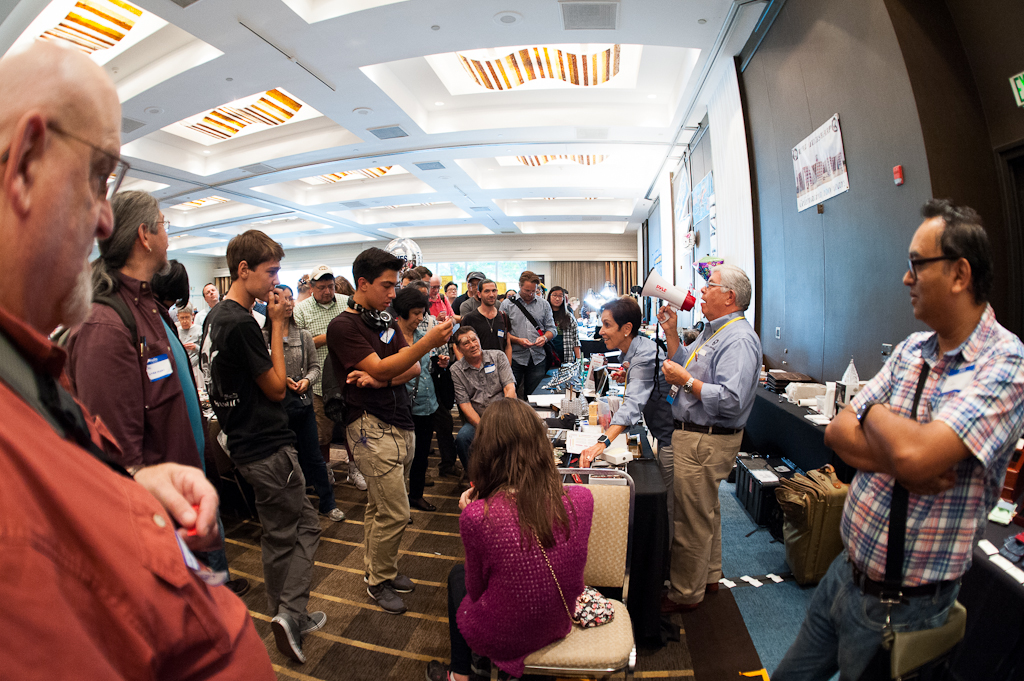 On Saturday, the show ended at 7:00pm. I had the pleasure of having dinner with my Mom, Andy Lambrou, and his associate Margie. We immediately left the hotel and proceeded to the city of San Mateo where the Vietnamese restaurant named Ben Tre was located. I brought Andy to this place last year and he wanted to come back. Needless to say, we had an enjoyable and relaxed dinner.
The Royal Deuces – After Show Live Band Event
From the restaurant, we went back to the hotel and enjoyed the music of the Royal Deuces band. This is their third time to perform at the SF Pen Show. A lot of fun was had at this after-show event!
When the band was done, conversations still went on. Nikola Pang was there and was writing people's names to give out. He wrote my name down and gave the card to me. Thanks Nik!
After some time, the room slowly emptied out and I went home.
Sunday, August 28 – Third and Final Day of the Show
Time flew by quick! There was an overall feeling of happiness and a bit of sadness because we knew that this special event would be coming to an end.
I arrived right before 10:00am when the show opened to the general public. After helping out at the registration desk for a bit, I did my rounds of the show once again.
I bid my friends Mary and Jon goodbye as they had a long drive to Southern California. It's always a delight to see them at the LA and SF pen show.
Rick Propas, The PENguin, always brings a beautiful array of german pens. Namely Pelikan and Montblanc.
More wandering…
There were more door prizes raffled off. One of them was a TWSBI pen sponsored by Sunny Koh of Straits Pens.
Wandering around the room, I found Dale Beebe's table of Pentooling.com. He had lots of pen repair tools and fully restored pens for sale.
Right beside Dale Beebe was Teri Morris' table, Peyton Street Pens. They're located in Santa Cruz, California and is a part of the SF Pen Posse as well.
Sunny Koh of Straits Pens was a show sponsor and is also a frequent visitor of the SF Pen Posse. He brought pens , lots of Pelikan, Pilot, and limited edition inks from Japanese pen shops. Straits Pens also has an exclusive Noodlers ink called, Pacific Dawn at the Golden Gate which was launched at the SF pen show.
Walked away from the show to have a cup of coffee at the hotel bar with my friend Frank before he left.
After Frank left, I went back to the ballroom to see more people and help pack up for the show. I saw Ana getting a pen tuned by Jim at the Franklin-Christoph table. #lastminutepurchases
And that's the last day of the pen show folks. It's 4:47pm and the doors close at 5:00pm.
Post Pen Show Activity
As the show closed at 5:00pm, a few pen posse peeps took responsibility of the ink testing stations. After all, the ink testing frenzy isn't over and it will continue to be used at pen posse meet ups in the next coming weeks. #inkcrazypeople
We met up at Amici's Pizzeria once again for dinner and discussed the events of the show including details for next year.
Back at the Sofitel hotel after dinner and just hung out with pen-minded folks. Terrific time to keep on having conversations and do some show-and-tell of what they acquired from the show.
Final Thoughts
Pen shows are such a fun event to attend. Most especially when it's local in your area. The 2016 San Francisco Pen Show was such an enjoyable weekend filled with beautiful pens, lovely inks, terrific special events, and most especially, generous and kind people. It was magnificent to see old friends get-together and see each other once again and I appreciate the chance to form new friendships. I look forward to this show every year.
A HUGE Thank You to Ricky, Todd, and Syd for continuing to organize this show. In addition, to all of the people who have contributed  to its success, I thank you as well. To the awesome SF Pen Posse, thank you for all the effort and the volunteer work. Without you guys and gals, well, it wouldn't have been as fun.
Well, until next time. Thank you for sticking to the end of this long report. I hope it wasn't dragging and also that your snack was enough.
If you attended the SF Pen Show, feel free to leave a comment for any of your thoughts about the show and also what you bought!
"Pen shows are about the people and the stories between each other. The pens start the story and the people get closer."