Hand Over That Pen, please!
Katherine: Woohoo! I love the size of the Pelikan M200/400s — and this one is no exception! I love the shades of brown paired with the gold. However, I actually think it looks richer in photos than it does in person. When I started looking at more expensive pens, the Cafe Creme was high on my list. However, I saw it in person at Aesthetic Bay in Singapore and found that it didn't live up to my hopes and dreams, so I never purchased one. That being said, it's all relative — I just happen to prefer the uneven striations of vintage 400s.
Pam: The Pelikan M200 in review is actually Franz's pen with a custom architect grind from Dan Smith.  I really enjoy the warm tones of the pen as it is a standout from my usual black and grey pens.  The cream and brown is simple but rich in color.  The brown has a good red undertone that compliments the yellow gold well. My favorite part of the pen is the ink window! A trademark of Pelikan is their twist on the classic fountain pen with great materials and color designs.  A great example of that for me is the Pelikan M400 White Tortoise.  The Café Crème is no exception.
Franz: Aww yeah, a Pelikan pen finally for review! People who know me are aware of my fascination/obsession with this pen brand. Anyway, moving on with the review, the Pelikan M200 model is considered an entry-level model into the world of Pelikan pens. It is very lightweight and a compact size. Pelikan pens are noted for its reliable piston-filling mechanism and this M200 definitely one of them. There's just something about filling a pen from a bottle with a piston. Yes, fountain pens with a converter is filled with the same action but it has a different overall feel. But maybe it's just me.
The Café Crème is a beautiful finish and for a guy addicted to coffee, it seemed like a perfect pen to get. Being an M200, it is fitted with gold-plated clip, cap ring, and steel nib. As what Pam has said, the gold trim fits the finish very nicely.
The Business End
Katherine: M200 nibs in general? Fantastic steel nibs — smooth, wet while still having a hint of springiness, avoiding the designation of "nail" in my book. But this grind? Not my cup of tea. I can write with it, but I don't enjoy it. I tend to write in cursive and it makes my letters look weirdly… tall. But, to be fair, I'm not a big fan of broad stubs or CIs either — so ymmv. 🙂 If I were to purchase a M200 I'd steer clear of a Broad (too broad) and consider a CI grind to add some flair.
Pam: The architect grind is wonderful for me.  It pretty much becomes a "stub" for me since I typically hold the pen at a 90 degree angle.  I love using the architect grind in my journal entries when I want my writing to be short and chubby looking, or as other would say "blocky."  Nib is not too wet so shading comes through with certain inks and it's smooth on Tomoe River paper and Midori paper.  Cheap printer paper absorbs way too much of the ink which leads to feathering and non-crisp letters.  Feedback is minimal and as usual, Dan Smith did a wonderful job.  From my experience with Pelikans, the modern nibs tend to be quite wide and wet.  I had an EF that wrote more like a M. I haven't met a Pelikan nib that was scratchy or too dry.  Granted, I am not Franz.  He is our Pelikan expert amongst this triad.
Franz: Pelikan expert? Me? For real? Nope, not at all! I am merely a fan of their pens. A Pelikan pen addict if you will.
As I've mentioned above, the M200 is sold with stainless steel nibs and generally, they are smooth and juicy. There is also a little bit of bounce to it but not something that one would use for flex writing. For this specific pen, I asked Dan Smith to do something fun with the broad nib and he recommended to do an architect grind. I agreed since I've never had an architect/hebrew grind on any of my nibs before.
This grind is actually very cool as it sort of is a reverse italic. Instead of the usual thin cross-strokes, and thick down-strokes of an italic, it was the other way around. I primarily write in cursive, and sometimes print/block letters at work. I find the architect nib more suitable to write in print letters which made it look better. I didn't really like how my cursive writing looked with it. I think it's a matter of taste. I still recommend everyone to try an architect nib because you never know if you'll love it or just like it.
Write It Up 
Katherine: The pen itself is very comfortable for me, and I prefer it uncapped. I love this size of pen and find it very comfortable for long writing and drawing sessions. I love this size so much that I own three Pelikans in this size, two vintage 400s and one 400NN. However, as previously mentioned, the grind on this pen drives me up the wall — so this isn't my top pick for journaling. A stock nib or, perhaps, a CI on something less broad would be very compelling though!
Pam:  The M200 is light and effortless to write with.  As a "pocket size" pen of the Pelikan line, it's a great size for me.  It's about the length of the Franklin-Christoph Model 45 and Franklin-Christoph Model Pocket 20.  I can see this pen being too narrow for someone with average or larger size hands.I had no issues journaling with this pen and the "chubby" writing always gives me a bit of amusement.
Franz: I wrote with this pen posted for fifteen minutes of journaling and I found it to be okay. As usual, I grip the pen above the section threads by the ink window and I got a bit more girth to hold and the length was pretty okay. Even with the cap, I found this pen to be a bit too light for me though. I did write with the pen unposted for the last five minutes and that was not comfy for me at all.
EDC-ness
Katherine: I enjoyed using this pen as an EDC — it has a clip, uncaps easily and is a good size for either my notebook's loops or just sandwiching in my notebook as I run around.
Pam:  The pen is very light and with a screw on cap, it's a great EDC pen in a "controlled setting."  Maybe it's the fact that I recently lost a fountain pen at work, but I can see myself losing this pen within my white coat or not realizing that I don't have it in my pocket because it's so light.  Pelikans aren't super robust pens and dropping a Pelikan can damage the binde/body.  I would recommend keeping your birdies clipped in a jacket or shirt pocket rather than pant pockets (no keys!) or tucked safely into a pen case.
Franz: The Pelikan M200's size is actually a great pen for everyday use. At work, I found it to be a good pen to bring with me and in my shirt pocket. The pen uncaps with one full twist and is quite convenient for quick notes, or signatures. A quick comment about this nib, having a broad architect nib on it was borderline too thick for the copy paper used at the office. But if it were a medium nib with a round, architect, or cursive italic grind, it would've been just right.
Final Grip-ping Impressions
Katherine: Even if this particular pen isn't the one for me, I love the M200 line. The size is perfect, they hold a ton of ink and the nibs are solid. However, if you're willing to do a little hunting, for the money, I much prefer vintage 400/NN Pelikans. They're cheaper (easily $100-$150) and often have more interesting nibs (I have both a semi flex fine and a semi flex OB). But, for those less patient with eBay and forum trawling, the M200s are solid pens that look great!
Pam:  The greatest compliment I can give a pen is to purchase one.  In this particularly case, as the Café Crème hits so many sweet spots for me with the architect grind, beautiful brown and cream material (did I mention the ink window?) , and well sized for my pixie hands, I currently have this pen on "layaway" from Franz.  In exchange for permanently borrowing the Café Crème, I will "chip in" to Franz's next pen fund…
Franz: The Pelikan M200 is principally a great pen to have and to write with. Pelikan has issued the M200 in their Classic line with different standard, or special edition finishes since it was introduced in 1985. So if the Café Crème is not your cup of coffee (tea), there are a number of choices available. As I said in the beginning of this review, the M200 is an entry-level pen for the brand and I recommend this to anyone interested in getting a Pelikan pen.
In my opinion, it's a great size for users with small to medium sized hands. For people with larger sized, or bear paws similar to me, I'd say to try it out first. It may turn out to be a good fit or you might want to go to a larger size like the M600, M800, or even the M1000. Because I am a self-proclaimed Pelikan pen addict, I hope that my review of this pen comes off fair and as unbiased as possible.
Pen Comparisons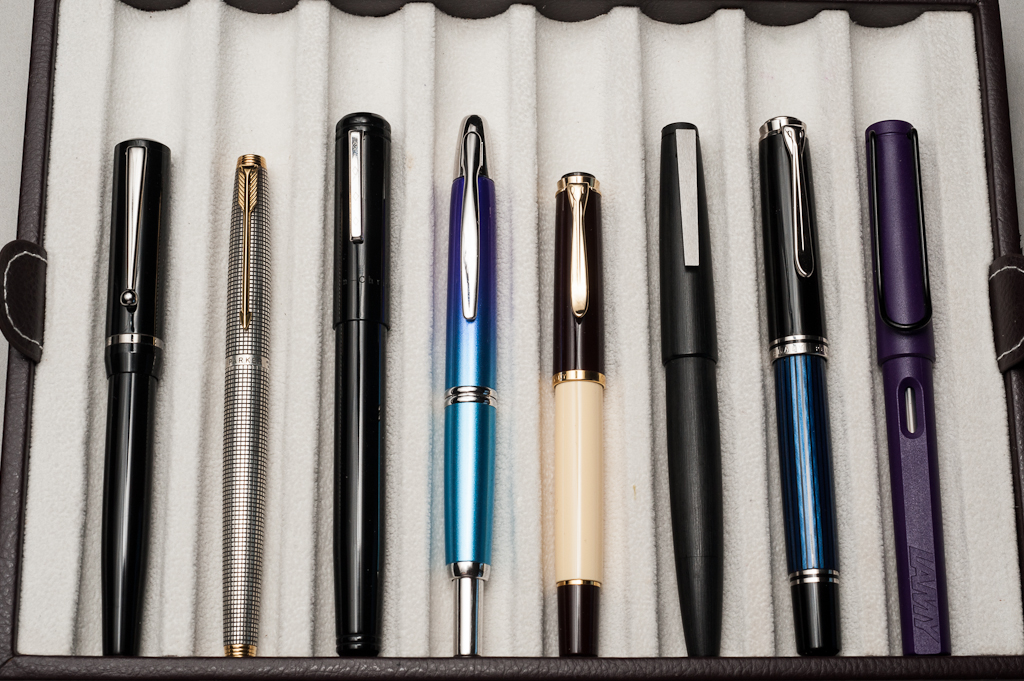 Pen Photos (click to enlarge)