Hand Over That Pen, please!
Katherine: This pen is adorable. But it does bug me a little that the end of the barrel isn't black (I'm picky, I know). But oh, it is so cute. (Contrary to what Pam says, they're still available on Rakuten)
Pam:  CHIBI BUMBLEBEE SAILOR for the win!!! It's a petite Progear that is small enough that the pen gets posted by screwing on the end of the pen.  Sailor pocket pen are three words that send my heart swooning; great things come in small packages. Unfortunately, these are not being made anymore.  They are available on the secondary market.
Franz: The Sailor Pro Gear Mini is so tiny and charming especially in this yellow finish! Pam calls it bumblebee and I can see that too but in my mind, I refer to it as a banana pen. I don't know… it's just something about that black cap finial that makes me think of one of my favorite fruits.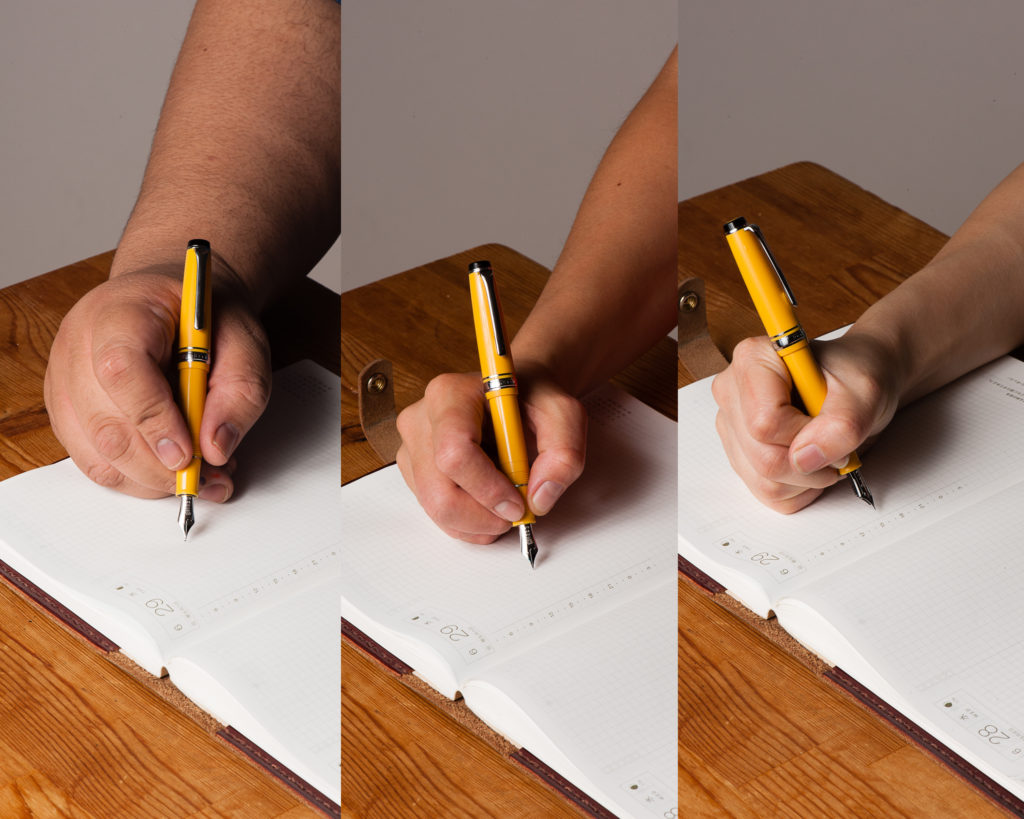 The Business End
Katherine: It's the the same Sailor MF 14k as a Pro Gear Slim (it's really just a Pro Gear Slim with a shorter barrel, after all) — and unsurprisingly, I really enjoyed it. It's broad enough that I can see the color of the ink, but fine enough that I can stick to my usual tiny hand writing.
Pam:  It's a Sailor MF (medium-fine) nib.  It's in the great sweet spot of a slightly wetter/broader line that isn't too wet.  I would recommend putting in an ink that you want to show off.  Perhaps an ink with some sheen.  I don't find as much feedback with this Sailor nib, which makes sense given that the MF nib is a bit broader.
Franz: The Mini's medium-fine nib is very nice to write with. Just like most Sailor nibs I've tried, it was very smooth. The M-F line width is actually a good one for me as I find Sailor's fine nibs just "a little" too thin of a line for me.  The design on this nib is different from any other Sailor pen because this was a pen commissioned and sold by the Nagasawa Kobe stores in Japan.
Write It Up
Katherine: I found this pen usable, but slightly short when unposted. It's one of the few pens that I prefer posted to unposted. Like the Kaweco Sport, when unposted, this pen makes my hand a bit tired after a while because it's just barely long enough to fit in my hand and I have to be careful about how I position my hand. Posted though, it's fantastic — like a slightly longer Pro Gear Slim!
Pam: The size of the pen posted is similar to the Sailor Progear Slim.  The width of the pen is exactly that of the Sailor Progear Slim actually.  They section and body are swappable amongst the Sailor Progear Slim and Mini. Other than the length, if you find the width of the Sailor Progear Slim comfortable, this pen won't be a problem for you.
Franz: I wrote in my journal with the Mini only in the posted mode because it was quite difficult to write with the cap unposted. I found that the posted length made it a little more comfortable for me. The girth of the section was quite thin for me so I end up gripping the pen on the threads. They weren't too sharp and I barely noticed them.
EDC-ness
Katherine: It's great for quick notes and pocket use. It's tiny, brightly colored (and hard to lose…) and seems plenty durable, not that I threw it against a wall or anything.
Pam:  I kept this pen with my Hobonichi A6 notebook cover and it kept up with my adventures in my bag.  It's really portable.  It's not the best for quick notes given that you have to screw the cap onto the body to post, However, if you have particularly petite hands and don't need to post it, a which quick twist of 1.5 rotations, will get you writing pretty quick.
Franz: Ahh… every day carry. It is definitely a pen that fits in your pockets. The M-F nib is actually very appropriate for use on cheap copier papers as the line is thin and the ink spread is minimal. But I don't think I can recommend this pen for large handed writers because after 2 or 3 words, it's hard to write with the pen unposted. This is due to the pen falling into the crook of my hand and is uncomfortable. I'd need to post the cap and screw it onto the barrel which takes quite a bit of time if you are constantly needing to cap and uncap for quick usage. It takes almost 2 turns to uncap the pen and then another turn or two for posting the cap. Small hands? No problem as you can see from the two ladies' experience.
Final Grip-ping Impressions
Katherine: This pen is really cute — but between this and the Pro Gear Slim, I'd prefer the latter. It's just a little more flexible and accommodating for my hand. But if short pens are your thing — this is definitely a great fit.
Pam:  It's a chibi Sailor for chibi hands.  It's a solid Sailor pen, albeit small.  If you are into challenging yourself on how small of a pen you can comfortably write with (like Franz), this is a great pen to borrow from smaller hand friends.  If you are looking for a great pocket pen and don't mind the extra work posting, you will be rewarded with this Sailor.
Franz: I really like the Pro Gear Mini a lot, and want one for myself. But to be honest, this is more because of me just hoarding wanting the pen in my collection. As a journal, or letter writing pen, I'd use this pen again.
The Mini is a pen more suited for people with a small, or medium hand size. This is coming from a guy who uses his King of Pen Pro Gear a lot in the workplace and for daily use. As well as a guy who constantly annoys pen friends by singing, "I like big pens and I cannot lie…!".
But one, including myself, cannot deny that the Sailor Pro Gear Mini is an adorable pen to behold. #ChibiPen
Pen Comparisons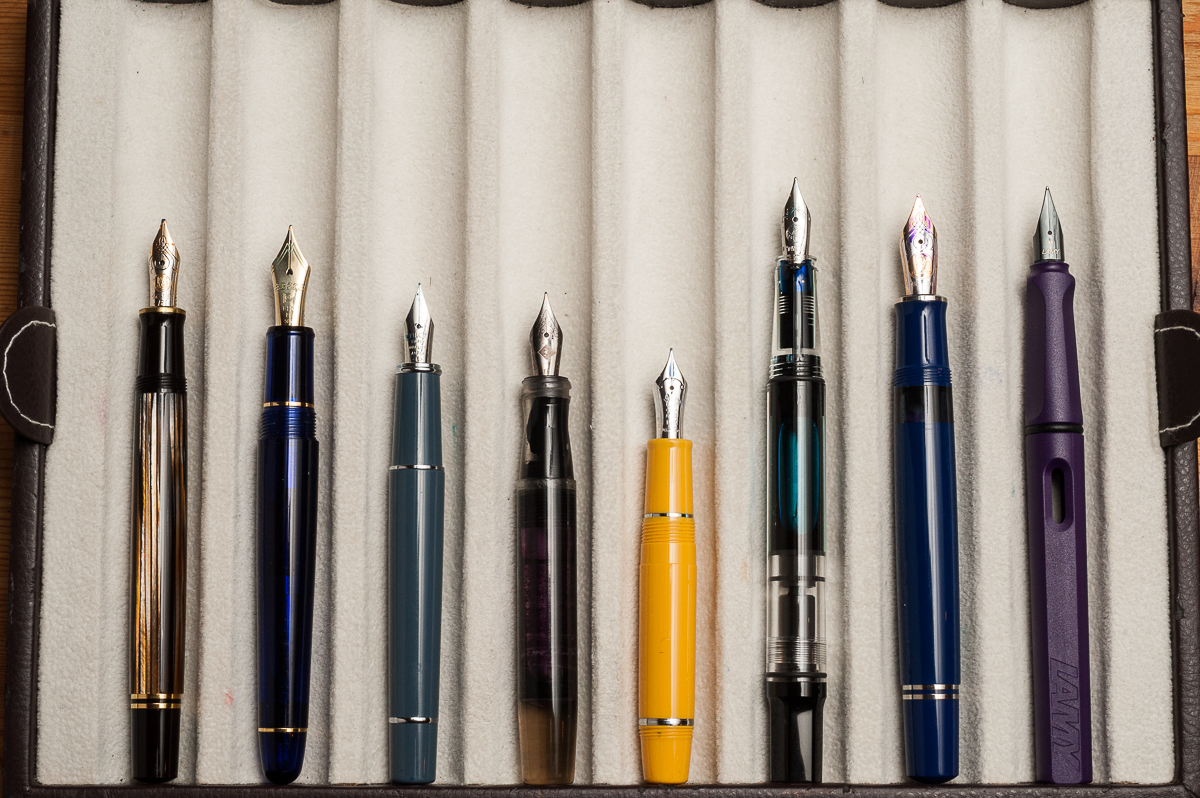 Sailor Professional Gear Comparisons (Left to right: Pro Gear Sapporo/Mini, Pro Gear Slim, Pro Gear Classic, and Pro Gear King of Pen)
Pen Photos (click to enlarge)