In August 2018, the Taccia Pen Company released their ink line and currently consists of 13 colors. These inks are manufactured in Japan by the Nakabayashi Co., Ltd. At the 2018 San Francisco Pen Show, Taccia brought the full line and had some bottles for sale. A lot of the show attendees definitely checked them out, HOTP crew included. 
For full disclosure purposes, we purchased the Sora and Murasaki bottles with our own funds and the bottle of Ebi was graciously provided to us free of charge by Ms. Shu-Jen Lin of Taccia. Thank you Shu-Jen!
With that, the opinions in this review are always of our own and we were not compensated monetarily for our review.
Inky Swatches
Inky Dispositions
Katherine: I found these inks very well behaved and pretty. I particularly love Ebi, though I thought ebi means shrimp… and this seems like an awfully maroon/purple leaning shrimp. Either way, shrimp are delicious and the ink is a beautiful purple-maroon-pink. The inks aren't waterproof, but do have some water resistance, you have to do some repeated wiping (or maybe soaking?) to get them off paper. I haven't tested this extensively, but I'd be comfortable using this on envelopes when it's raining (unlike some inks that just waaaaash cleanly off).
Pam:  I am a big fan of the Taccia inks.  All three colors are well behaved and easy to clean.  No real staining of the hands!  I really appreciate the range of colors.  My favorite was the Murasaki, the cool purple color.  It's closer to a purple with blue undertones.  It is similar to the Colorverse Hayabusa which I greatly enjoyed previously.  It does have more shading than the more saturated Hayabusa and doesn't have the gold sheen.  It's such a well behaved ink and preformed well in all of my pens, although I would recommend at least a Japanese F nib to show off this ink's color.  Broader nibs will show off the shading better.
Franz: My favorite of the three inks in review is the Murasaki. The color is in between violet and lilac which provides a feeling of royalty. Or perhaps it's just me. 
To concur with the ladies above, these Taccia inks are great inks to use and very easy to clean out of pens. Their wetness is at a medium level and has great flow. Both the Ebi and Murasaki demonstrated high level of saturation even with a fine nib. As for the Sora, it maintained its low-to-medium saturation even with a triple broad nib. With the dip nib/flex writing, both the Ebi and Murasaki caused feathering on Rhodia 80 gsm and Tomoe River 52 gsm papers. The Sora did not feather at all.
Overall, I was pleasantly surprised to see this new ink brand perform so well. I do recommend these inks for every day use and with the 13 colors, I'm inclined to say that there's at least one for you. 
Writing Samples
Ink Circles and Comparisons
Ebi
Murasaki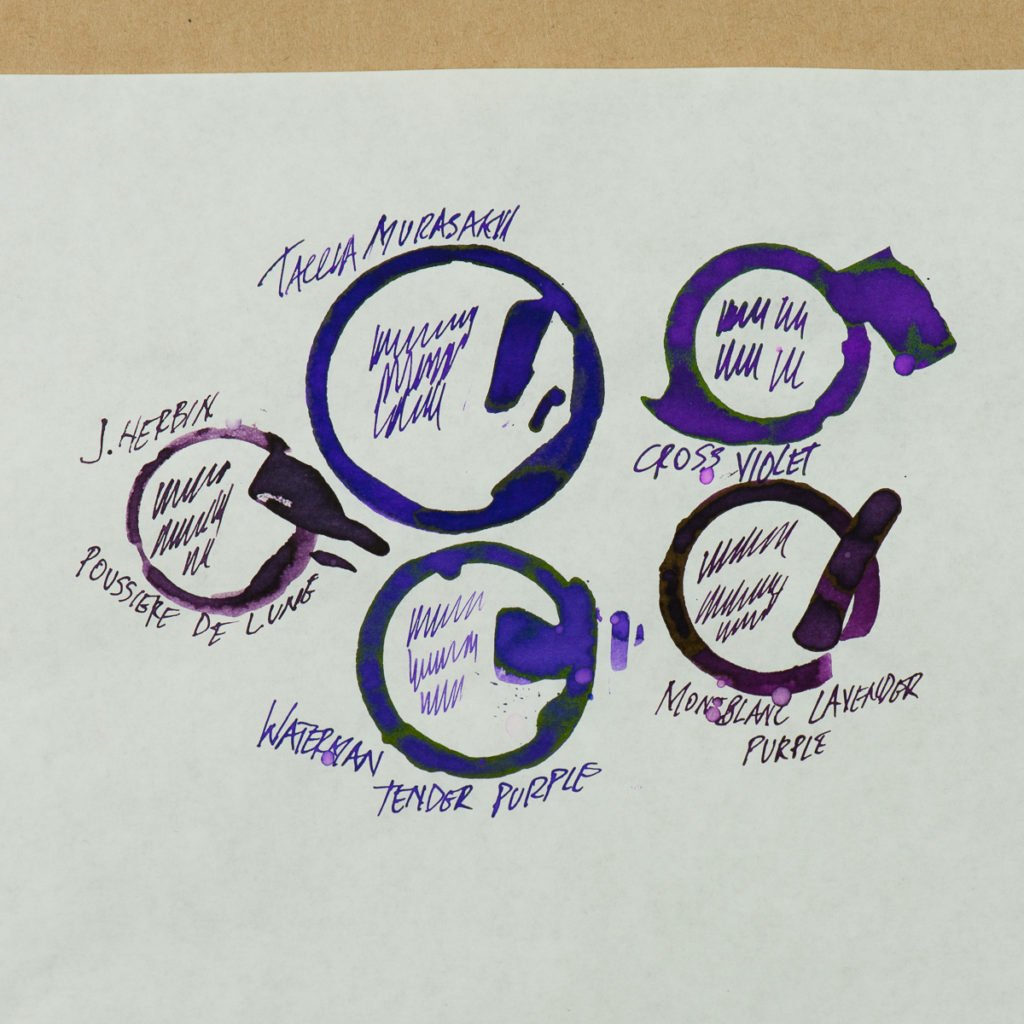 Sora
Taccia Ink Line Up