Wait, wha?! The 2017 San Francisco Pen Show is over?! I guess time flies when you are having fun!
Time for another pen show report! This will be another long read just like my 2016 SF Pen Show report so I dare not call it a "recap". This year, I have become much busier working the show as the volun-told Class Registrar, assisting at the Registration Desk, and also being behind my registered table hosting the Pay-It-Forward table. So being busier means less time walking around the show and less photos taken by me. I've asked a few friends if I may use their show photos and they have obliged oh so kindly. Thank you!
Oh wait, for those who only want the short version? Okay, well, it lives up to their tag line, "THE FUN PEN SHOW". And the post is done. j/k!
So go ahead and grab a snack to hold you over if you wish. This may be the lengthiest pen show report you've ever read. Quite lengthy that I had to divide it into two parts. I tried to be thorough and provide you the unique multiple perspective that I experience at this pen show. I hope you enjoy it!
Thursday, August 24 – The Day Before the Show
The Pen Show doesn't really start until Friday but Thursday is typically the day when vendors, and attendees who travel from out of town arrive at the hotel. Thursday afternoon is a time for vendors to claim their badges, paperwork, AND table assignments. Some vendors with multiple tables and large displays start setting up so there would be less work to do on Friday morning. The show organizers also host food and drinks in the evening for the vendors. Just like last year, they served burger sliders as well as grilled cheese with tomato soup. Yum!
I arrived around 7:00pm to take care of some class logistics for the next day, as well as meet up with pen friends from all over. Some Pen Posse friends decided to have a late dinner and we trekked to the city of Millbrae for our favorite place, Peter's Cafe. I think this may become a yearly tradition for Thursday night.
Afterwards, I hung out at the bar with a couple friends and got to check out some cool pens from different people. I also finally got to meet Leigh Reyes who arrived the same day all the way from the Philippines. A couple months ago when I knew Leigh was planning to attend the show, I reached out to her and "made" her do a free seminar which was on Sunday.
Friday, August 25 –  Show Time!
On the first day, the ballroom opens to vendors to setup at 7:00am, and the All-Access Pass Holders are let in at 8:00am. The General Public was admitted at 1:00pm later that day.
Okay. This is no big secret but it still needs to be said. What's one of the SF Pen Show's secret weapon for success? The SF Bay Pen Posse. And I am very grateful to be part of this group. There were a number of volunteers months before, during, and even after the show. The people at the registration desk that greets and helps show attendees are ALL volunteers.  No one gets compensated monetarily, but an attendee's smile while being at the show would be enough for them. So friends, I'd like to take this opportunity and thank you all for your help! Also for the whole weekend, Desk Boss Margaret kept us in line so special thanks goes to her as well! =)
I arrived 7:00am (too early…) at the hotel to make sure I get to assist the people who pre-registered for the classes and also help out at the registration desk. Friday paid classes were:
While at the registration desk, I get to see what people bought. This Pen Posse member came up to me and showed me his "First Blood" purchase from Stylo-Art.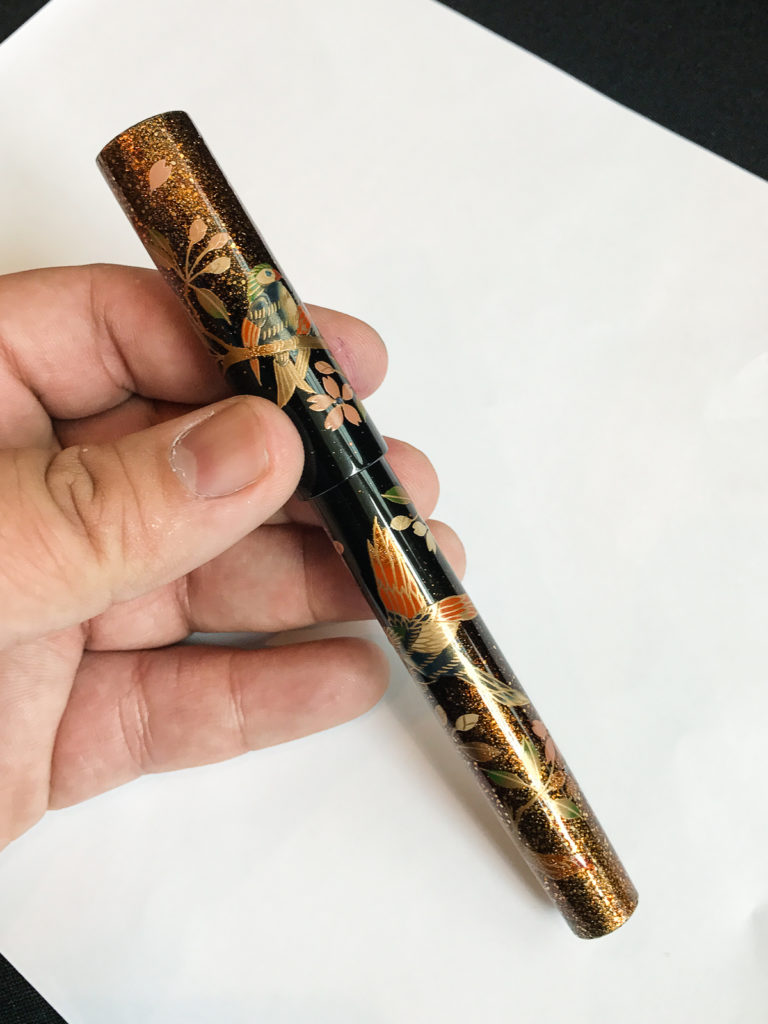 Around 11:00am, I finally got to walk around a little bit at the show, took a few photographs, and visited with friends. 
Steve Curnow and his family are back at their usual spot at the SF Pen Show. They have quality paper goods and a very good spread as you can see.
The show's registration desk from above.
As you walk past the registration desk, Greg Weddig is back at the show and selling vintage pens as well as his Valley Oak Iron Gall Dip Pen ink. Sharing the table with Greg is Gary Naka who was also selling restored vintage pens.
Kenro Industries is back as well. This year they were represented by Neil L., and Cary Y. (Fountain Pen Day). Kenro is the US distributor for Montegrappa, and Aurora pens. They showcased the Montegrappa Game of Thrones pens, the Aurora 88 Flex pens, and a lot more.
While I was at the mezzanine level, I yelled down to Ricky to pose for a photo and this is what I got. I asked for captions from the SF Bay Pen Posse group and I'll share the top three (IMHO). Which one would be your pick? ;-P
"Where the F— did the Mont Blanc carpet go?!"
"WHAT?!?! Do you think I'm in charge or something?"
"Trust me! Drop your Namiki Emperor, I'll catch it"
Still within the foyer, our very own Katherine split a table with other pen posse peeps and was selling her hand carved stamps of pens, and ink bottles. She also created a Hand Over That Pen 2017 SF Pen Show stamp for friends to mark on their journals.
To complete the table, here's Lawrence and Yuan who were selling pens, inks, washi tapes, etc.
Right beside was Claire R. (@writteninrice) who occasionally is a guest reviewer on our blog. She sells great quality pen wraps and she loves prime numbers. Her current wrap design holds 7 pens very securely. Her fabric combinations are just so cool!
Ink Testing Stations
A very unique feature of the San Francisco Pen Show are the Ink Testing Stations (ITS) set up for show attendees to enjoy. This year, round tables were scattered around the show for attendees to sit down and test the different ink brands, and colors. The pens used for the ITS were Dollar 717i. For 2017, there was a total of 783 inks available for testing. The ink lists for the past 3 years can be found on the SF Pen Show Ink Testing section of the show website.
Months before the show, the Pen Posse with the direction of Ink Boss Christina, all 783 pens were cleaned, labeled, organized, and inked up for the show.
We had different companies donate inks for the Ink Testing Stations. Luxury Brands donated their inks, Franklin-Christoph gave us their inks as well, Robert Oster donated 60 bottles of their inks, and Vanness Pens donated Organics Studio inks. Thank you very much for your generosity!
Right before the ballroom was an Ink Testing Station table. This table always had people sitting down. To my knowledge, one person successfully wrote and tested all 783 inks during the weekend!
At the show, Patrick represented the Robert Oster company from Australia. Here's Patrick speaking with Brian and Christina of the Pen Posse.
Walking into the ballroom, you will find Andy Lambrou of Lambrou Pens (formerly Classic Pens) and his associate, Monica, to your left. He has been attending the San Francisco pen show since 2014 and brings exquisite pens. This year, he brought a case full of Classic Pens CP-8, Lambrou Pens LB-6, and a few of the LB4 Tahiti pens.
Walking over to the left was Itoya's table. Itoya is the US Distributor of Sailor pens as well as Taccia pens. It was Itoya's first time at the SF pen show and they brought a nice display of their Pro Gear pens inked up with their different inks.
A little further in to the ballroom was The PENguin's table. That's Mr. Rick Propas who is a very well-known expert of German pens especially Pelikan pens. I always try my best to visit with him and say hello. Also, to take a look at his pens for sale.
Classic Fountain Pens aka nibs.com came back to the SF Pen Show this year and had several Nakaya pens on display. There were testers with their different nib sizes inked up for people to try out. Jonella set the table up on Friday and was there to answer questions, and take in orders of their pens all weekend. I've known her since my 2014 LA Pen Show experience (Pen Posse OPM).
Also at the Classic Fountain Pens table was Pony Boy. He was guarding the Nakaya pens! Pony Boy does quite a lot of traveling too. Check out #adventuresofponyboy on Instagram
Here's Matt Armstrong of The Pen Habit blog came back to the show! And once again, he helped the Vanness Pens team at their table.
Lisa Vanness and Leigh Reyes during a light moment behind the Vanness Pens table. Photo by Gary Naka.
Kick A$$ Calligrapher Nik Pang was at the show as well. He was selling nib holders and was writing people's names.
As I walked out of the ballroom to do more pen show duties, I saw more people testing out the Ink Stations.
One of the SF Pen Show's sponsors is Straits Pen represented by Sunny Koh. He brings in a lot of pens and inks from Asia. I caught him having a snack by the registration desk with a friend.
I had a registered table at the show and that was gonna be the Pay-it-Forward table. But I decided that I would set it up on Saturday and Sunday afternoon. So I had my friend, Mark C. sit at my table and sell his freshly roasted Monsooned Malabar coffee beans. He also, by request, brewed some coffee for people to try out what he was selling. I was very thankful he did that. And that's my cup that he has the pour over dripper on. =)
Back at the registration desk, I met this nice fellow named Ralph and he got me beat with having two shirt pockets filled with pens. Cross pens at that! There were a couple Parker pens too. He showed me a Cross Townsend in Lapis Lazuli that I almost drooled on but I didn't get to take a photo of it though. =(
I noticed these Kisses chocolates left out on a table. Let's just say I got some much needed sugar boost! =)
Friday's show went on, met more awesome friends during the day. The show ballroom closes down at 5:00pm and the Pen Collectors of America (PCA) held a pen auction at 5:30pm. I registered and got paddle 27 but I eventually didn't go and just hung out with people. I gave my paddle to a pen posse friend and apparently paddle 27 was very active. Haha!
One of the reasons why I did not go to the auction was that I realized that I missed my reserved time with The Nib Smith, Dan Smith. So I waited to be the last person he'd help for the day and I picked up the only pen on my pen show list. The Fabulosa! I mean, the Aurora 88 Nebulosa.
After a fun first day, a large group of us went to the Pen Posse favorite, Amici's East Coast Pizzeria for dinner. It was a quick 5 minute drive from the hotel.
I only got to take this one picture of the pizza before we devoured… ate it.
After dinner comes my favorite part of pen shows. Back at the hotel bar, it's hanging out with the people you saw at the show. Sharing the items bought, and telling the stories of the day. As Eleanor said before, it's Pen Shows After Dark!
Saturday, August 26 – Second Day
On Saturday, the ballroom once again opens to vendors to setup at 7:00am, and the All-Access Pass Holders are let in at 8:00am. The General Public was admitted at 10:00am in the morning.
After a late night of pen-joyment, I sleepily got ready for another fun day. Pen shows are the only events that I would look forward to going to bed in the wee hours of the morning and then wake up WAY earlier than when I have to go to work. It's what I call Pen Show Time Zone (PSTZ) and I love it.
Typically, Saturday is the busiest day for the pen show and is the day when the most number of people attend. This year was no exception and with all the events jam-packed, it definitely was a busy show day.
I arrived around 7:00am once again for the registration desk and for the classes and seminars being held on Saturday. When I arrived, there were already a few people in line for Mr. Mike Masuyama's sign up sheet. Masuyama-san did something different this year in that he asked the registration desk to do the sign up for him instead of it being at his table. So the sheet was brought out at 8:00am for people to write their names and phone numbers. The photo below was around 7:45am and good thing I got to take it.
For Saturday, there were a combination of 2 paid classes and 3 free seminars.
Guide to Italic Handwriting by Sherrie Lovler
Special Design Bookmaking by Virginia Woodruff
Basic Handwriting by Gary Naka (free seminar)
Pens 101: Pen Basics by Loren Smith (free seminar)
Pens 102: Vintage Pens by Ricky Chau (free seminar)
Here are examples of the special edition books that Virginia designed for the pen show. You can add or remove pages as you go.
Calligraphy Demononstrations
Something new for the pen show this year was that there were volunteers each day to do calligraphy demonstrations. The volunteers came from The Pacific Scribes Guild, and Friends of Calligraphy Guild. Their tables were located at the foyer across the registration desk so I got to check them out and two ladies wrote my name.
Pen Artisan Guild Annual Contest
Another new event for the pen show this year was that the Pen Artisan Guild held their first annual contest for guild members and created one of a kind pens for the contest.
Show attendees had the chance to vote for the pen they like. And The People's Choice Award went to pen number 11, by Jonathon Brooks of the Carolina Pen Company. Photos of the guild pens are courtesy of Ricky Chau.
At 10:00am. the General Public was let in to the show and it definitely got busier. Here are Ricky Chau's photos of the ballroom around that time.
PAY-IT-FORWARD Table
What is the Pay-It-Forward table you ask? Well, it is a table at a pen show fully motivated by kindness, happiness, and a great love for writing instruments. The PIF table was originated by Oscar, The PENthusiast, and a smattering of other generous pen folk at the 2017 DC Pen Show. If I am not mistaken, this idea was inspired as well by Rachel Goulet of The Goulet Pen Company. The PIF mission at pen shows is twofold. First is to create and give out Fountain Pen Starter kits to newbies young and old. Second is to provide an avenue for experienced pen people to donate items that are no longer loved, and to give these items a second chance to be loved by another home. Items encouraged to be donated are pens, ink bottles, notebooks, and other stationery related things. Monetary donations are also welcome either at the pen show or the PENthusiast's website.
Right before the 2017 D.C. Pen Show, I reached out to Oscar to come to SF with the PIF table. But due to schedule issues he couldn't make it. He did send a box full of PIF supplies for us to host at the show. We then put a call out on a blog post, and at the SF Bay Pen Posse group to ask for donations at the show. Let me tell you, a lot of people have come up to me and donated new pens, used pens, mostly full ink bottles, notebooks, and other items. Since Thursday night I've had items given to me for the table and I am floored with the generosity of the pen community. I decided to have the PIF table up by noon on Saturday and Sunday at the show. The table was located right before the ballroom so a lot of people stopped by, asked questions, and eventually left happy.
Because of all the pens and inks given at the table, we didn't really use all of the supplies that Oscar sent. Which is great because the next planned pen show appearance of the PIF table will be at the Colorado Pen show in October.
I did make a big blunder that I should be burned at the stakes for. Out of all the excitement and busy-ness, I did not write down the names of the people who donated items during the show. I do remember and know a lot of the people who donated but at the risk of forgetting anyone, I shall just say a big…  THANK YOU FOR YOUR GENEROSITY! You all know who you are and your kindness is deeply appreciated.
During both days, a lot of people asked about the Give A Pen, Take A Pen racks. I explained that it doesn't have to be exactly give and then take. If there was a pen (or two) that they would like to have, they may just take it. Now if they have a pen that they don't love anymore, they may just leave (give) it on the rack for someone else to possibly love it as well!
Here's a quick story. There was a young lady who wanted a fountain pen from the rack but instead of just taking it, she felt it necessary to give a pen so she left a ballpoint. #onelessballpoint ;-P
Another one. An awesome person was looking at the Give A Pen, Take A Pen and placed this beautiful pen on the rack. He made the pen himself and wanted to donate it. I'm glad I got to take a photo of it because someone had taken the pen not even five minutes after. To the awesome gentleman who left this pen and if you are reading this, please let me know your name for I missed it during the show.
On Sunday morning, Lisa and Mike Vanness came up to me and asked where the Pay-It-Forward table was. They had a crate full of empty ink bottles that they'd like to donate. I told them it's not set up yet but we can definitely place them at the table for people to take. Et voila! Thank you!
In the photo below, the gentleman on my right is Mr. Ron L. and the lady behind him is his daughter. They helped sort out the donated pens and placed them in the starter kits with ink samples as well. Their efforts truly helped us out at the PIF table and made it possible to provide more kits to people on Saturday and Sunday. Thank you Ron! You are a gem for the pen posse, the pen world, and to myself.
I also would like to give special thanks to another person who helped out at the PIF table. None other than my mother, Edna or as she placed on her name badge, "Franz's Mom". She helped me out at the table on both Saturday, and Sunday. She was such a pro talking to the newbies at the show. Here she was on Sunday checking out at a nib with her loupe.
Thank you Mother! Big Kisses! =)
This Pay-It-Forward initiative by Oscar and company was such a great idea and I am glad to provide help as well. The PIF table was such a success at the show and we are planning on how to make it a much better experience for show attendees next year at the SF Pen Show.
With that, thank you for reading this far and I hope you are enjoying it! The report for the rest of Saturday, and Sunday pen show will be published on Friday, September 15, 2017 and will be found on SF Pen Show Report Part 2.
Cheers!