Our lefty guest reviewer is joining us again! Roz helped us provide thoughts on this new Lamy Aion fountain pen.  Thanks very much Roz!
Hand Over That Pen, please!
Katherine: The Aion just ain't my thing. It looks okay — but the different textures on the section and the rest of the pen bug me. Also, it looks really long? (But we already know that Lamy style and I generally aren't bffs)
Pam:  Why hello there Mr. Minimalist design.  It's unsurprisingly a Lamy pen, with shape and feel that is similar to the Lamy 2000 and the Lamy Studio.  In my mind's eye, if the Lamy 2000 was the James Bond of the Lamy line with it's sleek and beautiful shape, the Aion is the buffer, larger and less graceful cousin.  It reminds me of the fine line Sharpie markers with the squared off profile in the cap.  Aesthetically, I have mixed feelings about this pen.  In hand however, its a different story.  It feels as it looks:  heavy, sturdy, and very comfortable (with a seamless body and section), all pluses in my book.
Roz: I pretty much fell in love with the Aion the moment I got to hold it. Brushed metal, black & silver, and clean lines – yes please. The weight surprised me as well. It was definitely heavier than most pens I would gravitate to, but what was surprising to me was that it was a comfortable weight to hold, even while writing.
Franz: Lamy introduced the Aion a few months ago in the summer of 2017 but U.S. retailers did not get these pens until late November or early December. My co-worker who went to Germany in August for a vacation surprised me with this Aion fountain pen. I was surprised at how nice the brushed aluminum felt in my hands mainly because I've found that metallic pens especially their sections get a little slippery for me. The Aion was smooth but the texture allowed me to grip it without issues. It does look like a fatter Lamy 2000 or a VERY beefed up Lamy CP1. I'm loving it so far.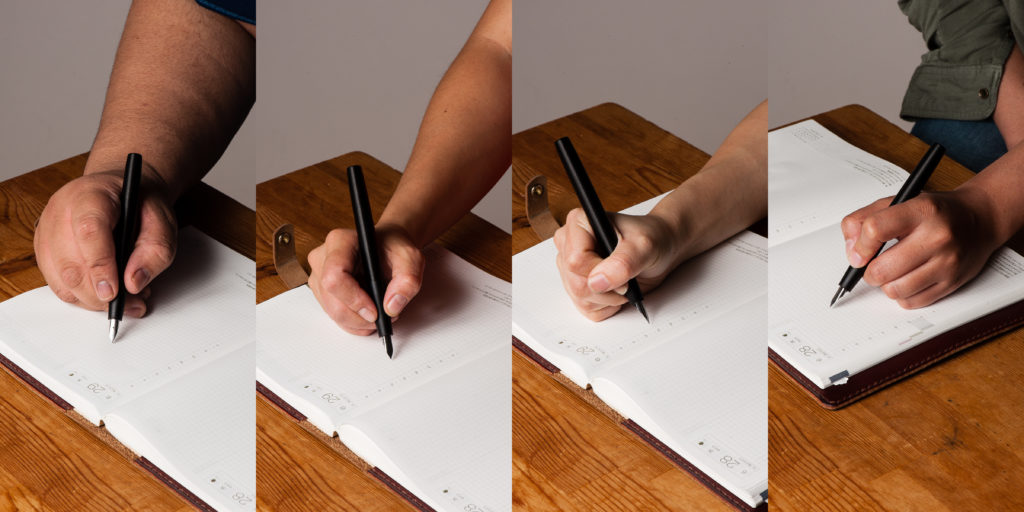 The Business End
Katherine: Like most Lamy nibs, I find the Aion's nib wayyyy too smooth. On Tomoe River, it's almost nails-on-chalkboard-y for me. On less smooth paper, like copy paper, it's more usable — and perfectly fine.
Pam:  The nib was perfectly smooth and glided over paper superbly.  The wetter nib tended to feather on copy paper, so I kept it on Tomoe River paper most of the time.  It left a well saturated  consistent line with no skipping.
Roz: The nib was easy to write with. Admittedly I prefer a finer nib so there were times when I felt I was almost painting with the pen, but the nib was smooth and the ink was consistent.
Franz: As detailed by the ladies above, the writing performance is smooth and wet. It writes like what a medium nib from Lamy does. One thing to note though, the Aion's steel nib is stiffer than a Safari's steel nib. Uhh… I do not recommend putting too much pressure on their steel nibs but the Safari does give a teeny bit of variation.
The shape of the nib is different compared to a Safari's as well. The Aion nib looks curvy which complements the section. Since I've done so myself, the Safari nibs are interchangeable with the Aion.
Write It Up
Katherine: I do most of my writing on Tomoe River… so this wasn't my favorite pen to write with for a long duration. But, ignoring the nib, it's a comfortable pen for me. The section is within my range and it's a well balanced pen. I expected my fingers to sliiiide down the section slowly, but they didn't!
Pam:  I am excited that this pen can be another home for the Lamy Safari nibs given that I have a harder time with the Lamy Safari's section.  The section with the matte finish/brush metal is a joy for my particular grip and sweaty hands. There is no step! It makes up for my reservations about the aesthetics of the pen. It's heftier than most pens, but that's to be expected with an all metal pen (and a bonus for me).  I wouldn't recommend posting this pen for those with smaller hands as it makes the pen more top heavy and can tire out the hands.
Overall, I savor writing with this pen given how comfortable it is.  The width and the non-slip grip section is spot on, even for those with petite, fisty, grips.
Roz: Writing is awesome with the Aion. I prefer to write with it unposted, the balance seems to suit me better. It was amazingly easy to write with this pen, the slope of the section is so well done it didn't leave any impressions.
Franz: Using the Aion to journal with is awesome. I wrote with the cap either posted or unpsoted and it was comfy both ways. The unposted length is quite perfect for me but if I wanted a little more weight, the posted length wasn't too long. One thing to note, although the cap posted on the barrel for more than an inch there were a couple instances when it slid off the pen. It does post securely at first but in my 10 minutes of writing, the cap loosened and slipped off twice. Perhaps I was writing voraciously? I don't know… haha!
It was still a nice writing experience for 20 minutes and I liked that the section did not have a mark of where my grip should be like that triangular-ish section on a Safari.
EDC-ness
Katherine: The snap cap is super convenient. And makes a nice clicky sound. Click click. Definitely an EDC-able pen, but wouldn't be my go to for the reasons listed previously.
Pam:  I would have no problems taking this pen around at work given it's sturdiness and snap cap.  It harkens back to the days (and present time) of how I prefer snap caps and fast access to jot things down at work.  It's weight also is a good reminder that it's in your pocket or the fact that it's not, if you are forgetful like me.
Roz: The Aion fit well in my carrier, but was a bit too heavy for me to wield throughout the day. What I did enjoy doing was sitting and writing with it for a solid chunk of time.
Franz: Before we decided to review the Aion, I've used it at work for about two weeks. The quick deploy of the snap cap, the spring loaded clip for the shirt pocket, and the black finish made for a distraction-free every day carry pen. I'm only wishing it had a fine nib because there were times when the line width was too thick for the cheap copier paper we use at work. I also used the Aion with my Curnow Backpocket Journal. Now that juicy medium nib was perfect for the Tomoe River paper in that journal.
The Aion is filled via either the Lamy cartridges or the supplied Z26 converter. During my two weeks of use, I refilled it three times. I did miss my Lamy 2000's piston filler capacity but it's far from being a deal breaker.
Final Grip-ping Impressions
Katherine: Lamy pens and I don't really seem to get along and the Aion is no different. But, all of my gripes are very subjective — if you like the smoothness of Lamy nibs and the aesthetic agrees with you, there's no (surprise) reason you won't love this pen. It feels well made and finished.
Pam:  I haven't been this excited over a "less than $100" pen in a long time.  If you are looking for an upgrade to your Lamy Safari and enjoy the more industrial, minimalist design, this is the pen for you.  If you enjoy writing with a sturdy, metal pen at a very reasonable price, this is the pen for you.  If you don't want to spring for the Lamy 2000 (yet) and wonder what else Lamy has to offer after the Safari or Studio, this pen is worth a shot.  Honestly, in this price range, there aren't that many pens I could recommend over the Lamy Aion with the features mentioned throughout this post.  My only reservation is on the bulky cap, but in terms of writing experience, I have no complaints.
Roz: I *really* enjoyed this pen, everything about it. I think I'm going to put this at the top of my pens-to-get-soon list 🙂
Franz: The Lamy Aion is a knockout pen. Period. =)
It's a very unassuming pen that brings great value. I love using this pen and will be inked up in rotation quite a few times. I kinda wish they had more color choices though. If they come out with other colors other than black, and silver, I'd probably get another one.
Within the four of us, we have different hand sizes and we found it a comfortable pen to write with. So the Lamy Aion is definitely a pen you should try to write with!
Pen Comparisons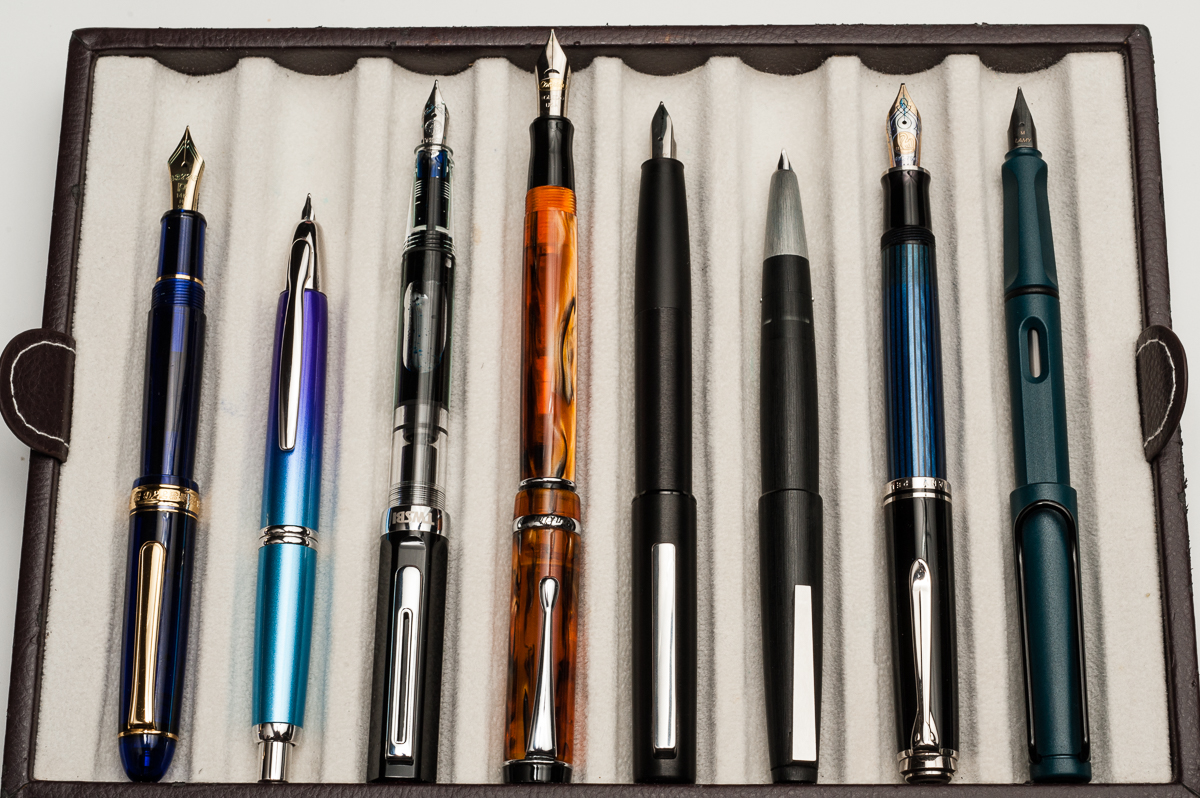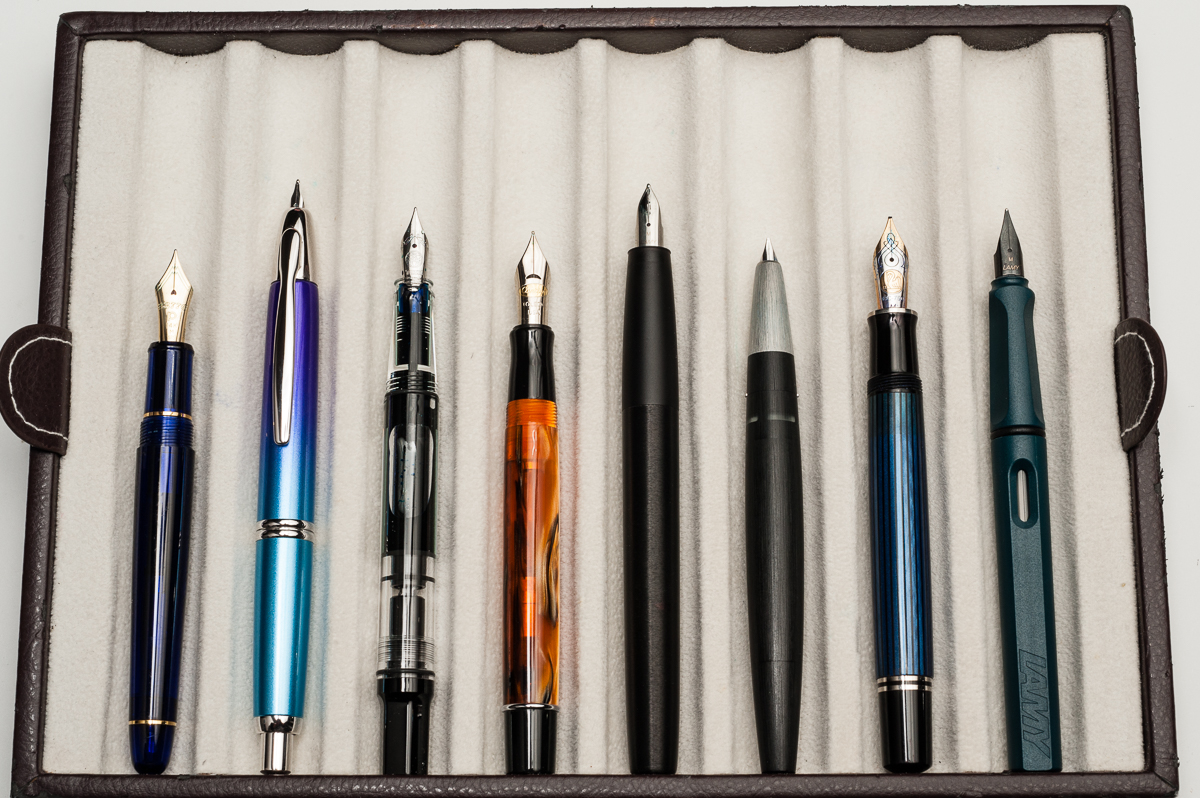 Pen Photos (click to enlarge)