Hand Over That Pen, please!
Katherine: The 149, like its little brother the 146, is a very classic style. As I mentioned in our review of the 146, I find the design inoffensive but a little boring.
Pamela: I am not a huge fan of cigar shaped pens.  Despite my appreciation of the 146 proportion and finish, I found the 149 to be "too much."  It's a BIG pen! It's has a great classic, vintage feel, just not my cup of tea.
Franz: Oversize pen alert! Here's a big one. The Montblanc Diplomat 149 is a simple black pen and is quite pleasant to hold. The resin is smooth, and scratch resistant. Its iconic torpedo shape speaks to me. I've been aware of this pen ever since I started using fountain pens but I've only seen and held one in person two years into the hobby. I had to have it!
Carrying over from our review of the Montblanc 146, the Montblanc Diplomat 149 is part of the Meisterstück line (Masterpiece) and was first introduced in 1952. It is a piston-filled pen which contains a large ink capacity. The number of the pen meant that: 1 – Meisterstück Line, 4 – Piston-filler system, and 9 – nib size.
The Business End
Katherine: The nib on Franz's specimen, like the other Montblanc nibs I've tried, is fantastic. It gets the job done smoothly and flawlessly. The pen is smooth without being glassy, with just enough character not to be boring. I suppose having a grind by Masuyama-san doesn't hurt either. 🙂
Pamela:  Montblanc and Masuyama?  Yes please!  The nib is a joy to write with and as always, smooth.
Franz: The medium 14K nib of this 149 was a very smooth and juicy when I bought it in January 2015. This was the third Montblanc nib I have written with and so far Montblanc is 3 for 3 in terms of nib quality. I loved the nib's springiness which gives the writing some character. At the 2015 LA Pen Show, I had Mr. Masuyama turn this nib into a cursive italic and it has been one of my favorite nibs ever since.
Write It Up
Katherine: While the nib on this pen poses no problems… the size of the pen does. This pen is quite the monster for me. It's a little too long and a little too girthy to be comfortable. Small hands, huge pen… just ain't a fit. 146, please!
Pamela:  The pen is really unbalanced for me due to my grip and the length of the pen.  I felt that my hand fatigued more easily using the larger 149.  This pen gave me hand muscle quite the work out.
Franz: During my journaling, the 149 was comfortable for me for the first ten minutes. As I wrote longer with it, my hand felt a bit fatigued. The grip section is about 13 millimeters and it's one of my wider pens. Lengthwise, I prefer to write with the cap posted but it's not as secure as I want it to. There was a moment when the cap came loose.
EDC-ness
(Daily use at work/home, at least a day or two)
Katherine: Honestly, I didn't even try. I borrowed Franz's pen for a week, but found that it never left my desk. It's just barely comfortable for me to use, but certainly isn't a size that I'm comfortable putting in my pocket. Not to mention, it doesn't fit any of my pen cases. Womp.
Pamela:  The pen is not a shy one.  It's also far too large for me to carry around without being stopped for brandishing a weapon.  This pen stayed in my backpack as I transported it around, however, it was bit too heavy and large to be an EDC for me.
Franz: I've used the 149 in rotation at work for quite a while now, and it's great for quick notes and perfect for signatures. I appreciate the quick uncapping with just one rotation of the cap, as well as the medium cursive italic nib that writes well on the office copy paper.
Final Grip-ping Impressions
Katherine: This feels like a pretty short review for me. Take everything I loved about the 146… and resize it to be too big for my hands. Sadness. The 146 is a perfect size and weight for me, versus the 149 feels like I'm out to club someone. Maybe some baby seal stationary. (That's gotta exist, right?)
Pamela:  I agree with Katherine that my review of the 149 is shorter than usual.  The 149 is a great pen for those who love GREAT (big) pens, enjoys the quality of Montblanc nibs and has the "paws" proportional enough to use larger pens comfortably.
Franz: Talk about iconic! Yep, the Montblanc 149 is one of the most recognizable fountain pens. As evidenced from both ladies above, this pen isn't for everyone. But one should at least write with it for a period of time and decide for themselves. The 149 fits right at home in my bear paw. Even though it can get tiring for my journaling/letter writing, I love it for quick notes during meetings, and perfect for signatures.
There are quite a few oversize pens comparable to the Montblanc 149. Photos were taken below for comparison. I honestly prefer the size of a Pelikan M805 as it's almost the same length uncapped, but a little bit thinner and allows me to grip the pen better.
Pen Comparisons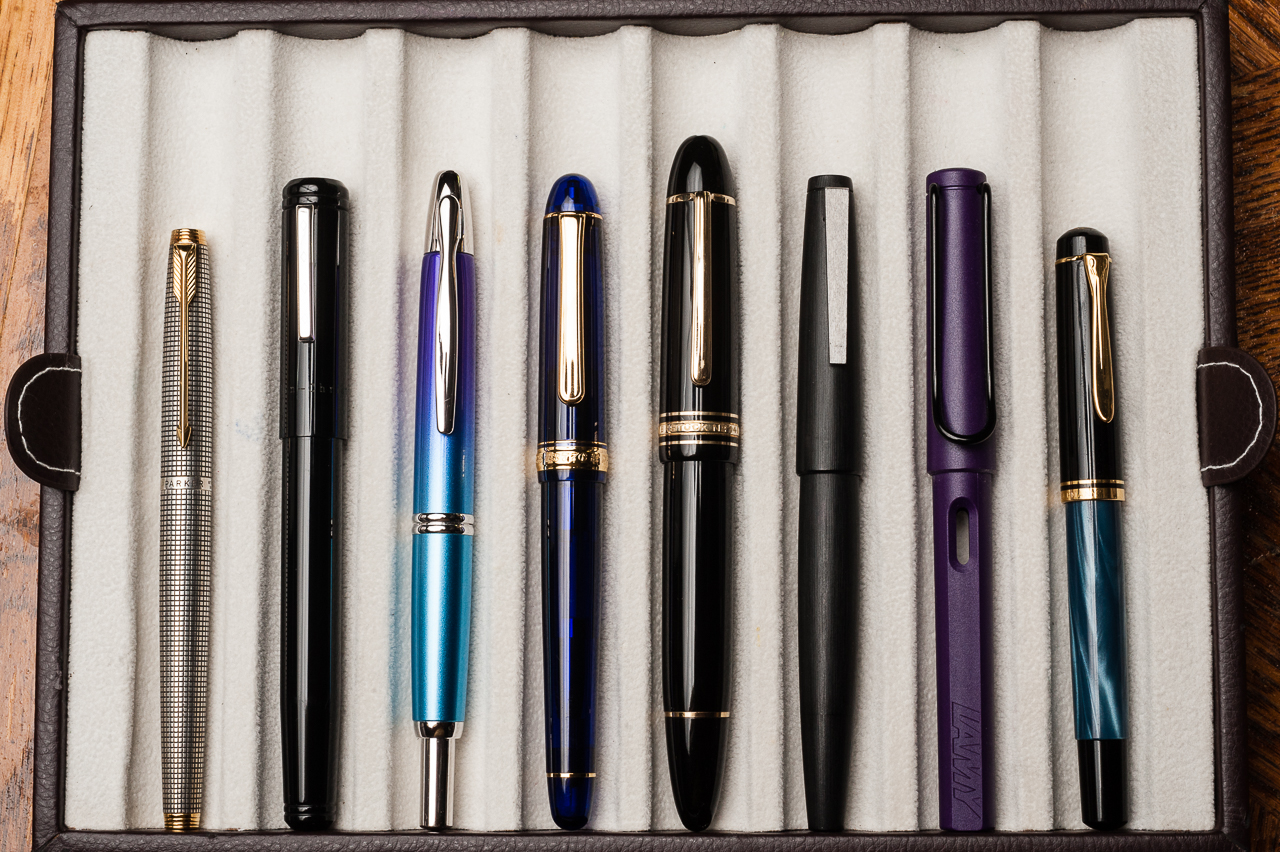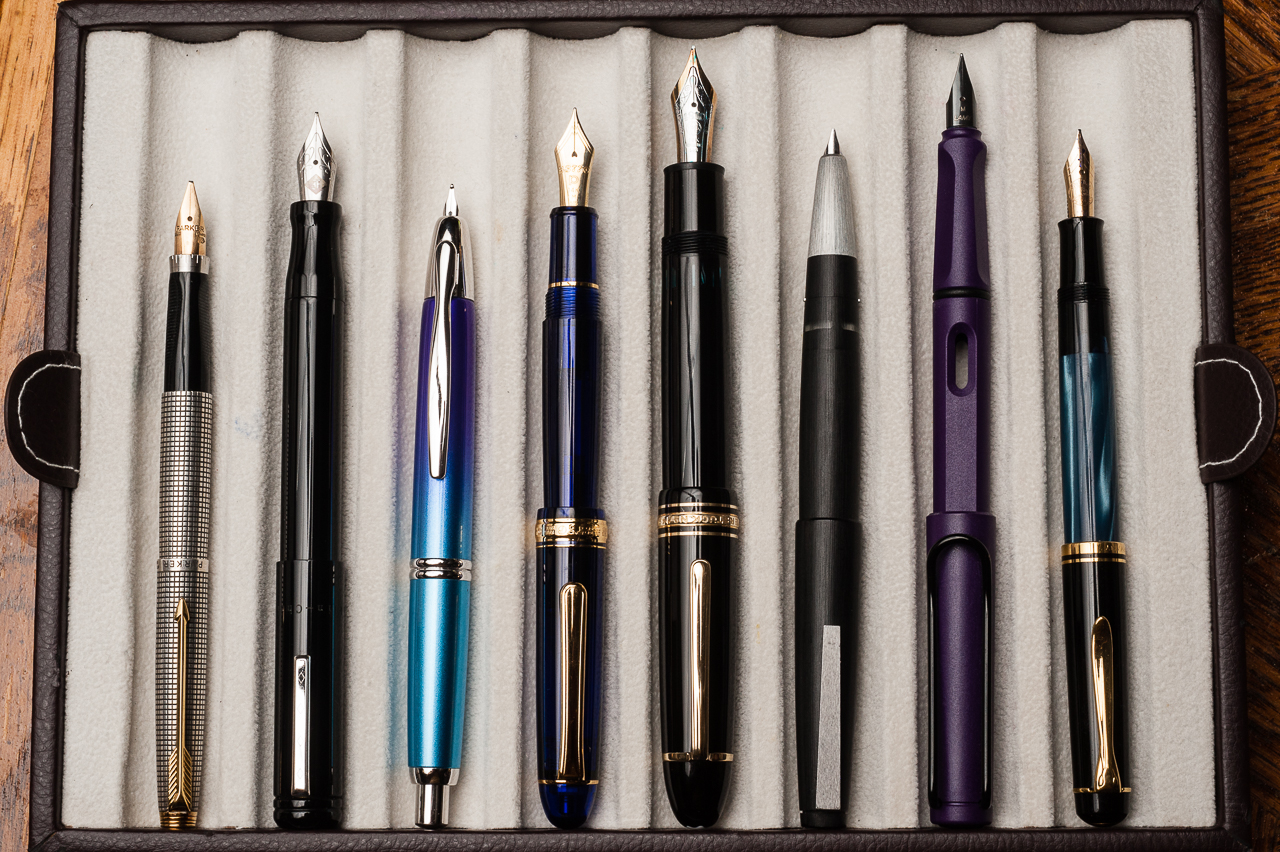 Oversize Pen Comparisons
Pen Photos (click to enlarge)