We would like to thank Pen Chalet and Ron M. for sending us this Pilot Custom 912 as a review loaner pen. Pen Chalet has been a great company that sells pens and stationery items at competitive prices. They also frequently run promos for specially priced items as well as provide discount coupons. Check them out if you haven't yet.

That being said, the opinions below are our own and we were not compensated (monetarily, or otherwise) for this review.
Hand Over That Pen, please!
Katherine: I like the way this pen looks. Flat ends, with some taper, and silver rhodium hardware. It's nothing flashy, but I much prefer this look to cigar shaped pens.
Pam:  This pen hits several check boxes for me in terms of aesthetics.  Flat top, check.  Rhodium trim, check. Non-garish clip, check.  It's perfectly understated and professional.  Oh, what fun this pen hides!
Franz: A lot of Pilot pens have a simple look and this is one of them. The shape of the 912 reminds me of a Parker 75, a Lamy 2000, and maybe even a Sailor Pro Gear. A flat top pen with slight taper. And do you notice how the clip's shape looks like a sword? The pen is mightier than the sword, right? =)
Here's a quick informational tip. A lot of Pilot pens are assigned numbers as their model names. I've come to know that the first 2 numbers of the model name indicates the company year when the pen model was released. In the case of the Pilot Custom 912, it was released within the 91st year of the Namiki/Pilot company which was founded in 1918. So, 1918+91 years means the 912 was introduced in the year 2009. The last digit was/is the manufacturer suggested retail price for the pen in 10,000 Japanese Yen. So 2 x 10,000 = ¥20,000.
The Business End
Katherine: Ooooh the FA nib! This is the second #10 (the smaller size) FA nib I've used, and just like the other, it was a delight. I love the flex and softness of FA nibs — they don't have quite the snap back that some vintage gold nibs have, but they're plenty for my untrained hand and ultra reliable (see the EDC portion). The one caveat is that the stock feed with the 912/742 tends to have a hard time keeping up if you flex a lot. To solve this, I widened the feed channel on my FA nib (the 912 was a loaner, so I didn't, but I made the modification to my 742) and rarely have rail roading problems. With the improved flow the 742 is a fantastic, fun writer.
Pam:  The FA nib is really really fun.  It's one of the best softer/flexier modern nibs.  It's a great alternative to those who don't want to tempt fate with vintage gold nibs or on a more modest budget.  (If you are a newb like I am with vintage pens and find the idea daunting.) The nib can take quite a bit of pressure and allows for some generous line variation. Yes, the nib survived my writing pressure.
Franz: Pilot nibs in general are so good out of the box whether it be the steel nib of a Pilot Metropolitan, or the 14k gold nib of a Pilot Stargazer. The Pilot Custom 912 just follows suit and is a very smooth writing nib. The FA nib has that soft bounce and it was a pleasure writing with it. I don't do much "flex" writing and the nib and feed kept up with my writing doodling. So it's a great one for me!
Did you know that some of Pilot's nibs are date stamped? You can barely see it in the photo below but this nib is stamped "315" which means the nib was manufactured in March of 2015. #justoneofthosethings =)
Write It Up
Katherine: This pen is plenty comfortable for me. It's well balanced, not too thick and not too thin. The nib is also stiff enough that it's easy to write with for pages on pages (versus some really soft nibs where super light pressure is a must) but soft enough that it's easy to add some flair to my writing when I want to (or for whole pages at a time, if I must admit).
Pam:  I am reminded of how reliable and wonderful Pilot pens each time I pick one up.  It's a pretty light pen, well balanced and had a good width.  I can't use my usual grip with this pen given how this nib performs, but even in the tripod grip, it's a good comfortable section.
Franz: Comfy posted or unposted. Nuff said. Thanks. =) Yep, writing with the Custom 912 was such fun. Unposted, the length was sufficient and I was writing along fine. The cap posted deeply onto the barrel and didn't change the balance very much but I appreciated the longer length.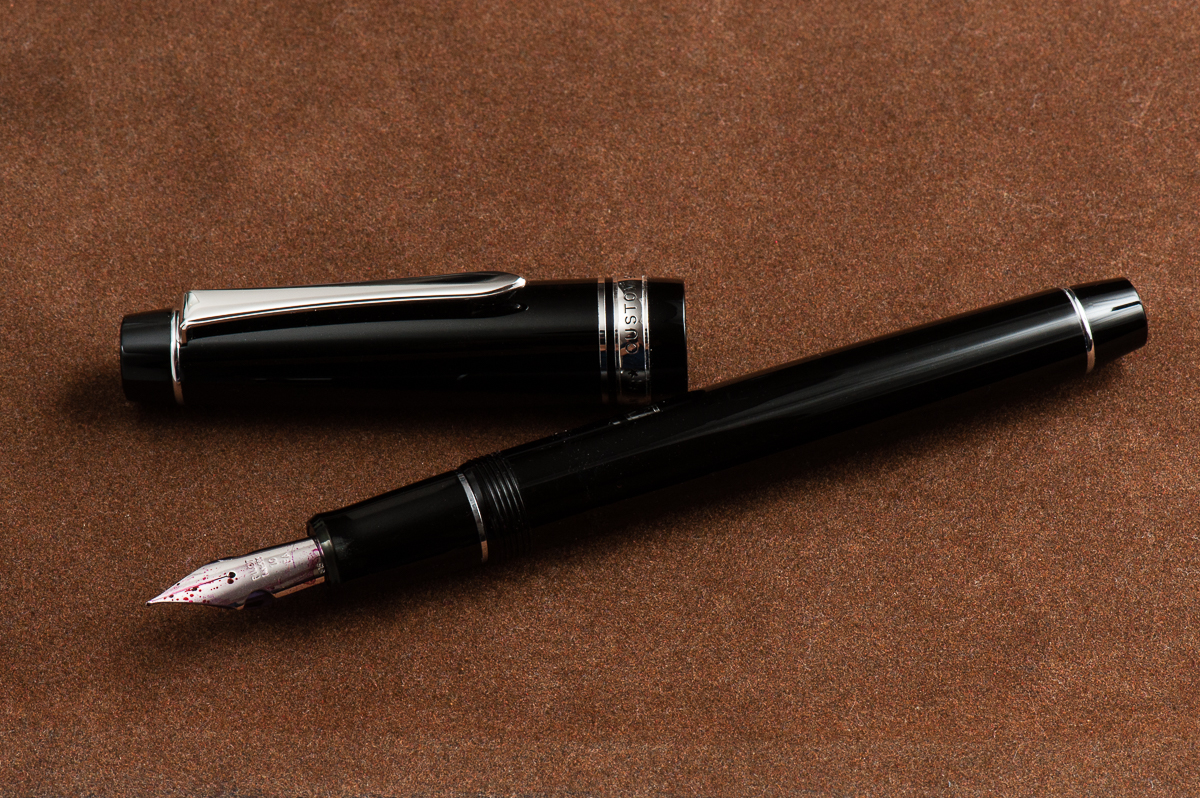 EDC-ness
Katherine: What really makes the Pilot FA nibbed pens stand out to me over vintage flex is how incredibly reliable they are. I carried this 912 in my backpack for a few days, and I never had a leak or found ink in the cap — it's a durable pen that has all the conveniences of modern pens, but with a fun flexy nib.
Pam: This is a great pen for lettering in planners to add a pop or a flourish to your dailies or to do lists.  The clip worked well in my Hobonichi A6 notebook. One of the perks of modern pens is that I know that it will perform well and consistently.  It survives the transit in my daily bag without any issues.  I didn't really use this pen at work, but it's a great companion for "planner time."
Franz: I got to use the Custom 912 at work for about 3 days and found it to be a great pen for daily use. The clip secured the 912 on my shirt pocket nicely. Pilot supplies the 912 with a Con-70 ink converter and it holds a decent amount of ink.
Final Grip-ping Impressions
Katherine: If I didn't already have a 742, I'd be asking Pen Chalet how much they want for the pen so I'd never have to send it back. I really like it (and prefer the way it looks to the 742). But… alas, a girl cannot have every pen that catches her eye. Overall, the 912 is a comfortable, non flashy daily driver AND a fun pen for doodling and dabbling in calligraphy.
Now back to telling myself I don't need a second FA nib. I don't need a second FA nib.I don't need a second FA nib.I don't need a second FA nib. Ugh.
Pam:  If you are looking for a modern "flex" nib or want to start practicing your hand letter/calligraphy from a consistent and reliable writer, I would highly recommend the 912.  If you are a newb like me and just want to have the fun of a softer nib without delving too deep into your wallet or the vintage world, this is a great pen to start with.  Granted, that being said, there is almost no alternative to a flexy vintage gold nib.  One of the great things about fountain pens is that there is a pen to suit anyone. This pen hits a particular spot for me as the best of both worlds, soft nib with a reliable performance and good body.  It's a "happy writing" spot.
Franz: To state the obvious, I really liked the Pilot Custom 912. It has been on my list for a while now but I haven't been able to acquire one. Reviewing this loaner from Pen Chalet could be the helpful nudge I've been needing.
Even if the term "solid" may be overused in reviews, I have to say it. The Pilot Custom 912 is a SOLID pen to use and recommend. It isn't an inexpensive pen, but there is value in it. The nib is a great writer, the build seems durable, the threads are smooth, and the pen's silhouette is beautiful. However, there is one caveat/drawback with the 912. As of this writing, the pen has only been offered in a black finish. For me, I love black pens and don't mind the lack of options (would love to have a blue though). But knowing the awesome people in the pen community, a lot of pen folks want color options for the pens. So if the aesthetics of the 912 appeal to you, go get one and try it out!
Once again Ron, we appreciate your lending this Pilot Custom 912 for review!
Pen Comparisons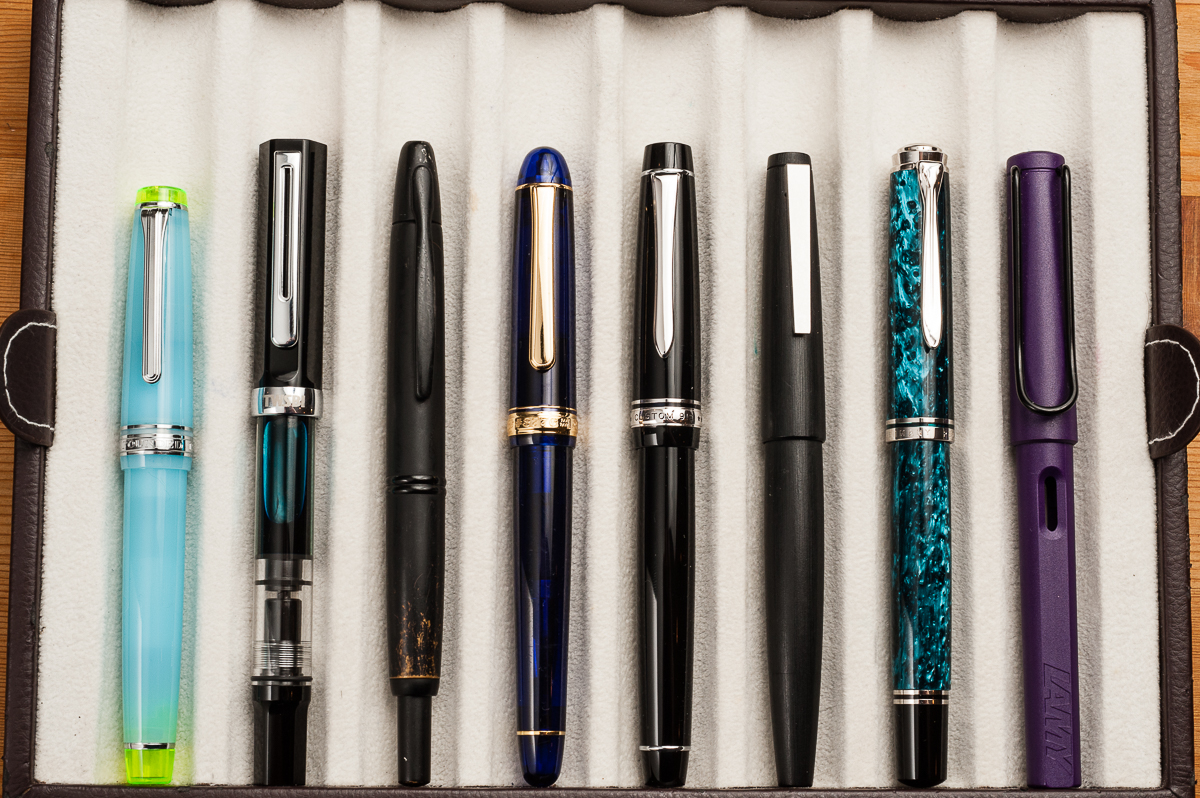 Pen Photos (click to enlarge)