This is a review of working with custom pen maker John Albert, of Romulus Pens. Since he doesn't have pre-defined 'models', we thought it would make more sense to review more general aspects of his pens instead of diving deep on a specific pen. (Also check out his Instagram here)
Hand Over That Pen, please!
Katherine: To me, this is where John shines. He went to art school and it shows. His pens are classically inspired, but, if you choose, he'll work with you to incorporate personal and modern touches (sometimes with gentle steering to save you from clashing asks or bad design choices). But, he's also willing to experiment and try new things. My second pen from him, a purple "nonagon" was at least partially caused by my grousing about being unable to find a Nakaya Decapod Mini and my love for facets — and what a beautiful experiment that has turned out to be! Experiment or not, he takes an immense amount of pride in his work and everything is always immaculately finished — metal bands are tight and smooth, everything is buffed and threads are never tight.
Pam:  John has the eye of an artist and the patience of a saint.  I haven't had any experience in designing a pen with all the options available.  Particularly since John will work with alot of different materials including hard woods, acrylic (and many more) and with the number of design elements in a pen from the cap, barrel, finials, and clip the possibilities are endless.  I started telling John what I wanted in a pen with only one material in mind as the working inspiration.  With my initially obscenely long emails of wants, wishes and "I don't know what to do with this aspect of the pen" and alot of John's patience and help as a vacillated between all the different possibilities, the "Sherlock" (my name for the pen, not his) was born.
John is great to work with and really does have some great input to fine tune your design to a particular feel or look.
The Business End
John typically uses Jowo nib units, but can work with other nibs if supplied by the customer. He doesn't do any grinds or adjustments.
Katherine: While I like Jowo nibs, I don't love the idea of having a bunch of Jowo-holders. As a result, the first pen I commissioned from John (the grey and yellow one) fits Pelikan m400/600 nibs. I chose to go with an eyedropper, not a piston filler, and it's written fantastically with little leaking! More recently, John has been building pens around all sorts of nib units, including ones that are entirely friction fit. I don't own one of these pens (so far) but am excited to do so once I find an appropriate nib.
Pam:  I was fine with a Jowo nib for my first pen, particularly with the awesome black/rhodium finish.  John was able to get me 2 nib units for my pen, one with a 0.4 cursive italic and one in EF, to suit whatever writing mood I might be in.  I really enjoy both nibs and they write as expected.  John is branching out to other nib units and I look forward to having all kinds of custom pens that hold some pretty amazing nibs.  One day John! One day!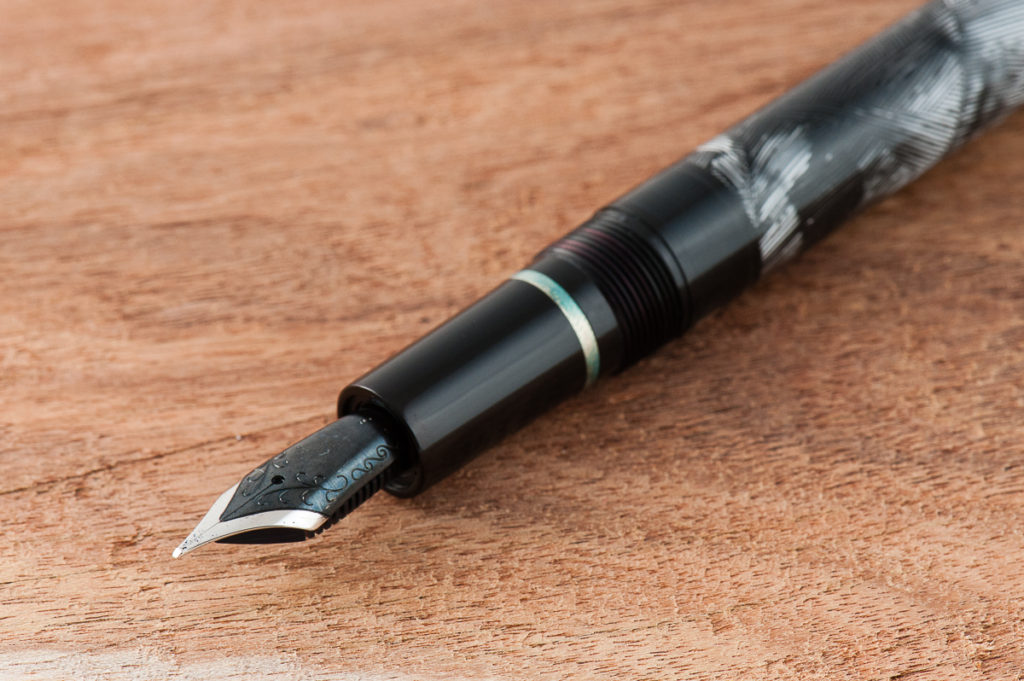 Final Grip-ping Impressions
Katherine: I love all three of the Romulus pens I have — a grey celluloid with yellow accents, the first/prototype "nonagon", in clear acrylic, and the second "nonagon" in a grape stripe resin. All three are immaculately finished, well balanced and well designed. I look forward to working with John on many more custom pens, I already have quite a few ideas queued up…
Pam:  John has great workmanship and the "Sherlock" is flawless.  The pen is so well polished that the barrel and the finials are seamless to the touch.   I joke with John that we can either have a custom pen subscription for me where I just send him money in regular increments until enough money accumulates for me to get another pen by him, or establish a punch card system with the number of ideas I have and get excited about.  I don't keep the ideas to myself mind you, John gets the blitzes of communication when inspiration strikes and he takes it all in stride with great feedback.  Did I mention he's a saint?  He also makes all my pen dreams come true.