Hand Over That Pen, please!
Pam:  When Will Hodges launched his Kickstarter for the Tactile Turn Gist in late 2015, I was an eager backer. The pen was inspired by the Lamy 2000 as we can see with the polycarbonate material and the shape.  One of the things I love about Will's products is that the product is imbued with his own design sensibility and signature style.  Additionally, the Gist can be customized based on different materials for the finial, body, the section and the nib.  All in all, that's hundreds of possibilities!!  My Gist was the full polycarbonate body with an extra fine (EF) titanium nib.  I bought an extra titanium section for a different writing feel when the mood strikes.  Swapping out nibs is a snap between the sections, just unscrew the entire nib/feed unit from section one and screw it into section two.  The converter that came with this pen fits snugly and well.  No issues as of yet.   (I don't recognize the converter, does anyone else know who manufacturers it?)
It's hard not to compare the Lamy 2000 and the Gist.  The best way for me to enjoy this pen is to NOT compare it to the Lamy 2000 because the 2000 is so iconic, beloved, and well known that it would be an unfair comparison.  The entire pen has a great feel in hand.  The length of the Gist is closest to a Pelikan M400 which is the perfect length for me, even when capped. My favorite feature of this pen is the texture that Will machined into the polycarbonate material. (His entire line of pens has the same signature design!  I swoon!)  The clip is tight and well made with no sharp edges.  It adds a welcomed weight to the light material.
Franz: Pam alerted me to the Tactile Turn Gist's Kickstarter campaign that started on October 2015. As Pam had mentioned, there were a lot of choices for this pen but I went with the polycarbonate with a Damascus steel section and finial. Fast forward to May 2016 when I first held the pen and admired it's ribbed texture. The pen does come with a converter and takes standard international cartridges. The supplied converter is a little shorter and more transparent than the usual standard international converters I've seen.
In hand, I really love how the Damascus steel contrasts against the all black polycarbonate. Because of the steel section, the pen feels like there's a good balance posted, or unposted. It has an overall stealthy feel to it and seems very solid.
Katherine: This pen looks cool, but I prefer the finish on the Lamy 2000. Also, it takes a solid two turns to uncap, which isn't my favorite design.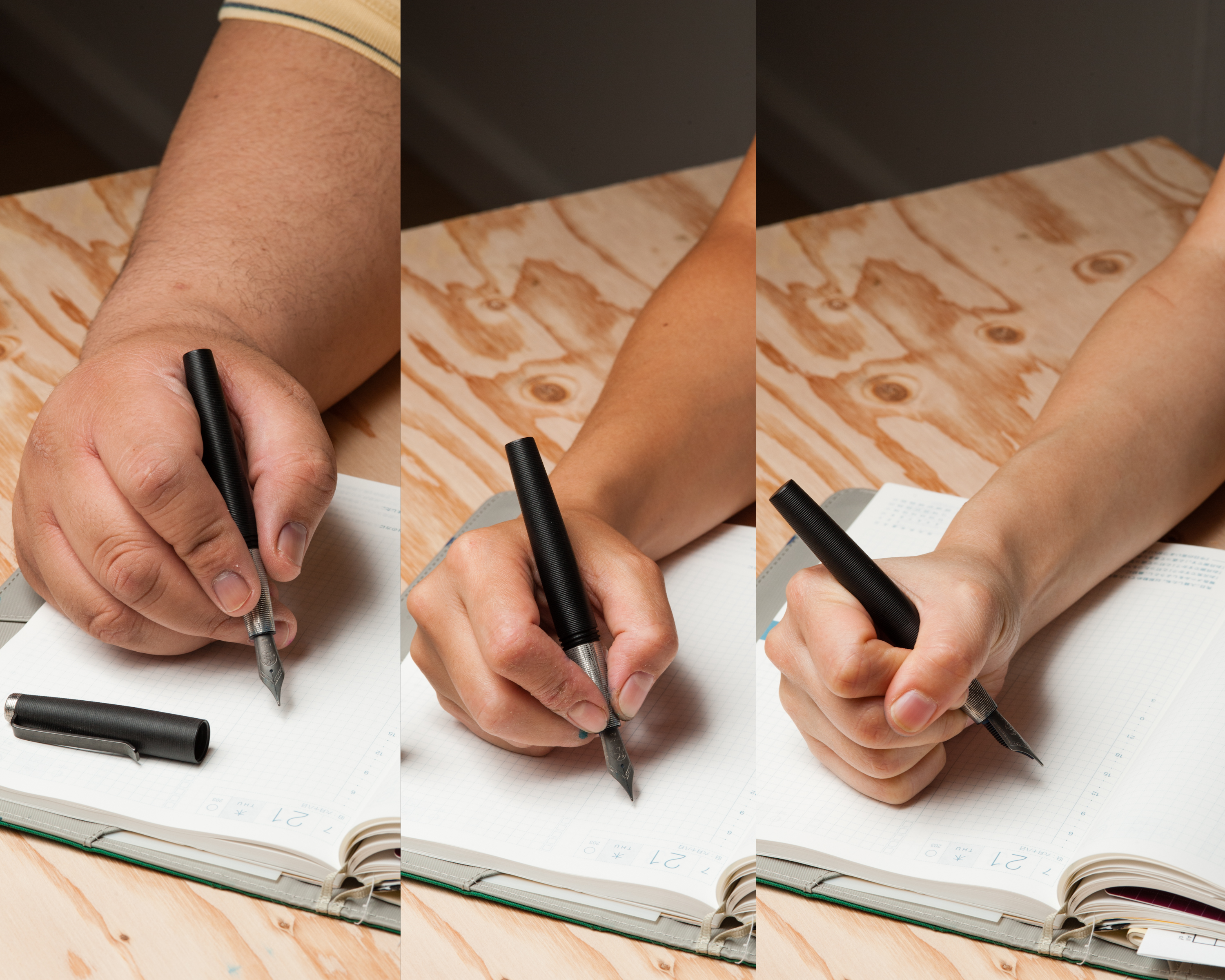 The Business End
(Nib design, feel, issues)
Pam:  The EF titanium nib is a lot like a medium (M) steel nib as it lays down a wet, saturated line.  I actually found the line to be too broad for me and had my Gist sent to Dan Smith of the Nibsmith to turn it into a needlepoint. When the pen was returned to me, I filled it with Sailor Miruai and started writing.  The titanium nib is a great "trainer" nib for me because it only requires a feather light touch to lay down a well saturated line, even as a needlepoint.  I think I can even see sheen in Miruai, or perhaps my eyes deceive me.  As an EF grade, the titanium nib is far too broad with my writing pressure, but as a needlepoint, it's a really fun nib that provides line variation similar to that of the Plantinum soft fine nib.
Franz: I ordered the Gist with a medium (M) Bock titanium nib because I liked how the grey titanium nib looks with the Damascus steel section. The #6 size of the nib fits the overall size of the pen.
As for the writing experience, I knew how soft the material can be as this was my second titanium nib. There is a feedback to the nib that only titanium nibs seem to have. It isn't unpleasant though. Since I do write with a light pressure, the spring of the nib was quite nice. The ink flow was quite wet and it just wrote without any hiccups.
Katherine: The titanium nib was a lot of fun — very smooth with an interesting touch of feedback. I've heard that's because titanium absorbs vibrations differently, and I totally believe it. It's a wide nib, a smidge wider than the Lamy 2000's EF. Additionally though, it's a very soft nib — with some pressure it's very capable of showing line variation. The nib is a little too wet for small lettering with line variation, but for writing bigger, it's very fun.
Write It Up
(20-minute writing experience)
Pam:  I really enjoy handling the pen it self as it is a great length for me and very light weight.  It's really comfortable as the threads are not too sharp and the width is slightly wider than most.  The width is likely between a Pilot G2 and a Dr. Grip ball point pen.  It's the nib that makes it  harder to journal for a prolonged period of time, especially since I have such a heavy hand.  As an EF, I can't journal as the line is too broad and everything looks messy.  As a needlepoint, the titanium is a great compliment to the grind allowing for a well defined and saturated line, which may be difficult to achieve on other needlepoint nibs.  If anything, there is enough ink when I push the nib for some line variation, I have to wait a couple of minutes before I can close my notebook due to the ink still being wet.
I have to practice with this pen to get the pressure just "write," so if I am okay for a relatively long writing session, I use this nib with a "warm up" session before the actual journaling session.  It's a whole new level of mindfulness!  (And an answer to Katherine and Franz's prayers for my excessive writing pressure.  Those poor nibs!)
Franz: I wrote with the Gist's cap posted for the first ten minutes on my journal and I was very happy with it. The balance is perfect and my hands did not cramp up. Even if my fingers landed on the pen's acme threads, it was not bothersome and did not make any indents at all. For the next ten minutes, I unposted the cap and just wrote with it. My grip slipped down to the middle of the section to make sure it fits my hand. It was okay for me. My hand did not cramp up but it was longing for the posted length.
On a side note, Pam's writing pressure still shocks me every time I watch her write. So I am thankful that she's gaining a level of awareness… haha!
Katherine: After writing out a journal entry — this isn't my favorite nib for journaling. It has an interesting sort of feedback, while still feeling super smooth… It's a bit reminiscent of nails on a chalkboard, which isn't a feeling I love when journaling.
EDC-ness
(Daily use at work/home, at least a day or two)
Pam:  This pen takes longer to uncap than most given that it takes almost 2.5 turns to unscrew so it's harder to bust out for quick notes.  And with the cheap copy paper that I have at work, the wet nib is a no go.  The clip is a bit too tight to easily slip in and out of my white coat given how thin the polyester is on my coat.  This is likely a pen that I would feel comfortable being thrown into my bag/backpack as it's a great pen to accompany my Hobonichi.  The pen tolerates drops really well, as I can attest to from experience.  -.-;;
Franz: At work, the Gist pen performed well for me in terms of writing on copy paper with its medium nib, and in comfort since I can write with it both posted or unposted. However, there are two areas that drew me back a little for my work use. First, as both ladies have mentioned, to deploy the pen you need to unscrew it two and a half times so repetitive quick notes and signatures for me takes a lot of time. (Yes. I do sign my name a lot in one day). Second, the tight clip made it hard for me to clip it in my dress shirt pocket. Actually, the pocket of one of my dress shirts got ruined because I tried to clip the pen a little too fast. No blame to place on the pen of course! It was my fault for sure.
Now the Gist is a perfect daily carry when I am out and about on my days off. After writing, I can quickly clip and secure the pen in my jeans pocket and go on with my day. I've been doing that ever since I got this pen.
Katherine: The cap takes two and a half turns to unscrew — which makes it cumbersome for stop-and-go note taking. Additionally the nib is wider than I prefer and we enough that I have to worry about my notes drying before I close up my notebook and run to my next meeting. The upside is that it's light and solid, so it's easy to throw into a pocket and the clip feels very reliable.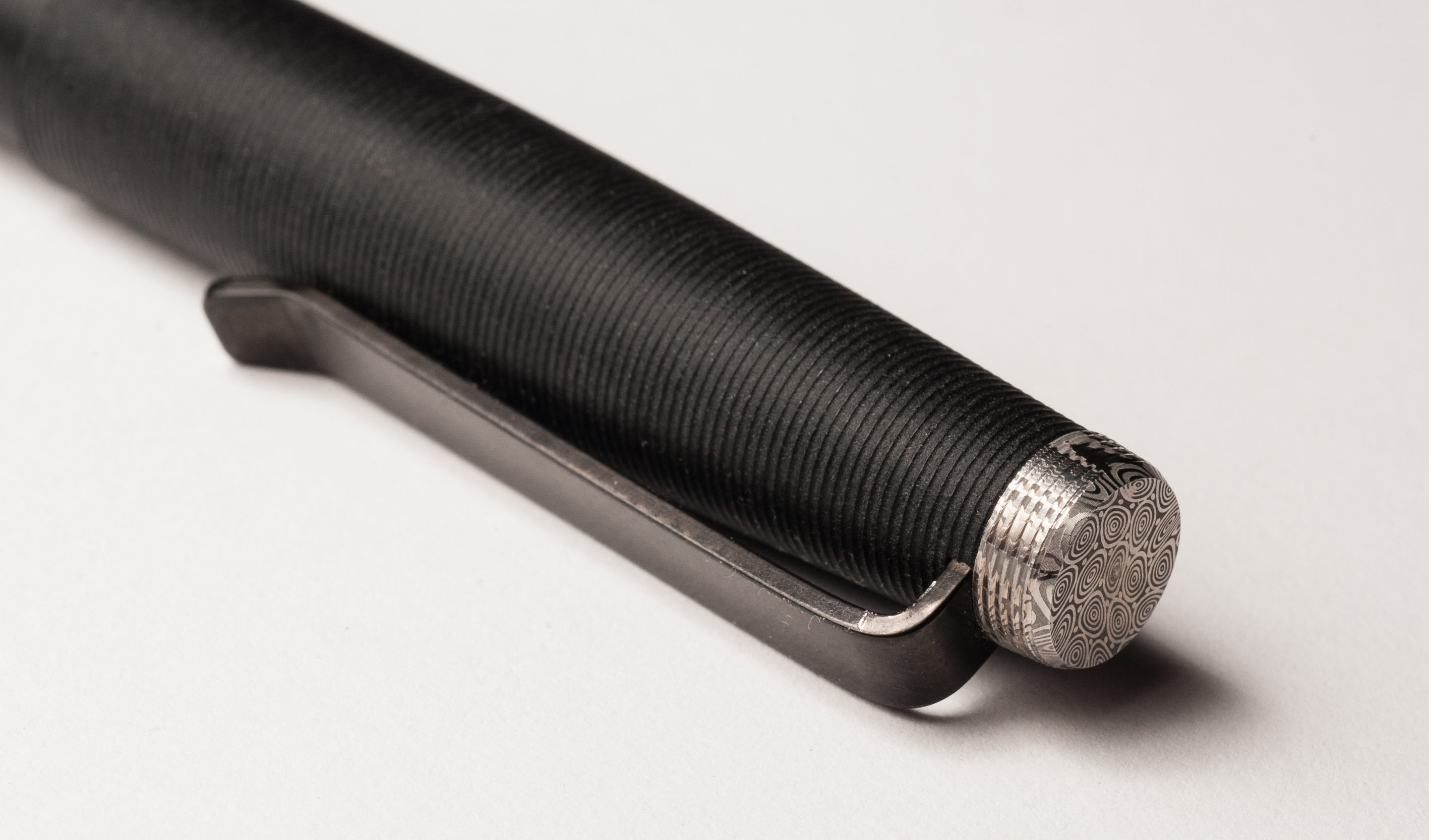 Final Grip-ping Impressions
Pam:  I really enjoy the pen body as a whole. Will has done a great job as usual.  I am on the fence, however, about the titanium nib.  It is a really interesting material, is very springy, which provides for some great line variation but I think I will only be needing ONE titanium nib in my collection.  I plan on getting a Franklin Christoph #6 nib at the SF International Pen Show in August to accompany this pen, for those times that I am too lazy to warm up with the titanium nib.  (And after I try out the Masuyama needlepoint grind…)
The Tactile Turn pens by Will are the only pens I have actually kept of all the pens I have backed on Kickstarter.  (I also backed a previous pen project by Will, the Mover, on Kickstarter.)  Will did something wonderful and unique by putting his own spin and design on such an iconic pen.  The pen is well constructed, easy to use and easily customized to suit your tastes.  My only regret was not buying a metal + polycarbonate version of the pen earlier.  Franz's  Damascus steel finial and section + polycarbonate body is soooooo well balanced.  Insert wistful sigh here.
Franz: So for the past three months, the Tactile Turn Gist has been inked up and in my pen rotation. It is a very simple and utilitarian kind of pen. I thank Will Hodges of Tactile Turn for creating and designing this pen. It may be an homage to the Lamy 2000 but at the same time it stands on its own.
For my large hands, this medium pen is very nice to write with. It is probably the combination of the ribbed texture, light-weight material, stealthy looks, and lovely nib. When you get a chance, try this pen out for yourself. You may like it enough to buy one.. or two!
Katherine: This pen is surprisingly light (at least the all Polycarbonate version is) — but I found myself thinking of it as a cheaper-feeling Lamy 2000.
I wanted to like this pen much more than I did. A lot of it comes down to the nib — I think if I had this ground to a finer nib, I may really enjoy it. As it stands though, the nib is too wet and too wide for everyday use and while flexy,