Hand Over That Pen, please!
Katherine: The Edison Beaumont comes in a variety of materials, but at it's heart, it's a slim pen with a very distinct flat-top cap. Overall, it strikes me as an updated version of very vintage styling (I guess flat-tops just do that for me), which I don't mind, but I don't love.
Pam: The Beaumont is relatively slim in width but a good length (may be too lengthy) for the pen.  The material reminded me of ebonite ripples which is an acquired taste that I am currently lacking.  Generally speaking, the pen's proportions didn't appeal to me.  I find the cap to be too chunky for such a slim pen.  That being said, it's a well made pen and would work well for those in a business setting or going for a more classic and formal look.  The ripple material brings some interest, but not overly loud.  Not to mention, there are options for different materials.
Franz: This is an Edison Beaumont in Briar Swirl ebonite which I purchased very early at the start of my pen collecting. The Beaumont definitely has a vintage shape to it and reminds me of something like a vintage Parker Duofold Streamline pen. I really love how the black cap-top and barrel finial frames the creamy amber swirls of the ebonite.
In November 2012, it was the first ever celebration of Fountain Pen Day. This awesome day is celebrated annually on the first Friday of November. So for Fountain Pen Day, Edison Pen Co. was offering free nib grinds along with a purchase. I got this Beaumont from their "Current Inventory" and asked to get my first ever cursive italic grind. Working with Brian, and Andrea Gray was seamless and I got my pen within a couple days.
The Business End
Katherine: The Beaumont I've been using has a MCI, ground by Brian Gray of Edison Pen Co. It's a very comfortable nib with dramatic line variation, as one would expect of an MCI. It's decently smooth, without being buttery or too wet, which I like. Overall, I really like the nib!
Pam:  The nib is my favorite part of the pen! I had no issues with the nib, it flowed well and provides just the right amount of feedbacky-ness. The cursive italic is well done and provides a great writing experience.  Bravo!
Franz: The 0.9mm cursive italic is such a dream to write with. This was the first custom ground nib I had and it's got perfect flow for my light pressure, with crisp line variation. And that light bulb nib logo of Edison on the Jowo nib is just so cool too!
Write It Up
Katherine: This pen is a taaaad bit on the slim side, but ultimately still comfortable for me to write with for long periods of time, but I'm surprised that Franz can! The pen is light and comfortable, and the nib is complaint-free.
Pam:  The pen is very comfortable and light to use.  I didn't have an issue with the slimness of the pen in both hand grips- tripod or "iron grip".  In my weird "iron grip," I did find the pen to be slightly top heavy or unbalanced when posted.  Hence why I felt that the initial design of this pen is just too lengthy for me, particularly since most of my usual grip is closer towards the nib end.
Franz: The Edison Beaumont is one of the smaller pen models in their offering. As shown on the "In The Hand" photos above, the Beaumont is a bit small in my hands especially when unposted. I do prefer writing with the cap posted and my grip is above the barrel threads for a thicker grip. The concave grip section is quite small for me and causes my hand to cramp up.
For about 15 minutes, I wrote with the cap posted and it was a comfortable journaling session with a nice balance.
EDC-ness (Every Day Carry)
Katherine: There's something about the way the cap and the cap threads are designed that's a little… strange. I found that if I cap the pen and twist, sometimes it doesn't catch — it gets caught on a lip or something, and I have to wiggle to get the threads started. This is kind of annoying for me, since usually, if I want to cap a pen… I want to cap it. Other than that, it's a small, light pen that seems durable and clips securely to pockets. I ran some errands with it clipped in my poncho pocket, and it held on securely! (Edit: Since writing this, Franz has informed me that the weird threading was a design flaw with the initial Beaumont, but it has since been fixed! Hurray!)
Pam: It's a great pen for EDC and the clip did just fine in my white coat pocket.  The cap took a little more than 1 full rotation so it wasn't too bothersome for me to carry around and use for quick jots.
Franz: I've used the Beaumont at work for a good amount of time and because of the cursive italic grind, it became a pen specifically for signatures. The 0.9mm line was a nice width for the copier paper used in my office. The length of the pen was perfect for my dress shirt pocket and it clips easily onto my shirt.
This Beaumont is filled via cartridge/converter and using this daily at work makes me need to re-ink it after 2-3 days. Not a very big deal but it is something I have to keep on checking daily. That's due to being spoiled by my piston-filled pens. The pen can be eye-dropper filled as well but I've never done that (yet).
Final Grip-ping Impressions
Katherine: All in all, the Beaumont is a nice pen. It's comfortable, solidly made and writes well. However, it's on the slimmer/smaller side and it feels a touch overpriced. I think I'm conflating flat-tops in my head, but I'd flip and the Conklin Duragraph in terms of price points… and all would be what I expect.
Pam:  The pen is great for those who enjoy a modern take to the vintage aesthetic and can appreciate the workmanship that is guaranteed by the Edison pen company.  Again, I see this pen doing great in a business or formal setting, or for those who have more vintage fountain pens than modern ones.  This one would be a great addition to your collection.
It wouldn't be my first pen to recommend to someone due to the price point but it's not a fair comparison in terms of price point with giants like Lamy or Pilot to the personal service and workmanship of Brian Gray.  Amongst the "custom" pen makers, this is a pretty good price point.  Alternatively, I would also consider a Franklin-Christoph if you are looking for an American company with great service and a bit more modern/unique design aesthetic.
Franz: As I was starting my pen collecting, the Edison Beaumont was my most-expensive pen. This pen we reviewed in the Briar Swirl ebonite finish was part of their Signature Line and as of June 2017, they are currently priced at $250. There are Production Line Edison Beaumont pens that can be purchased currently for $149 and I think that is such a great value. If you want to have a more unique pen with all different materials Brian has, paying the $100 premium is worth it as well.
Even though the Beaumont is smaller than what I prefer, I still enjoy writing with it especially with the custom ground 0.9mm CI nib. If size is the only category to consider, my large hands prefer the Edison Glenmont, and the Pelikan M805 which are included in the pen comparisons section below.
I recommend this Edison Beaumont for more smaller, or medium size hands and as I said above, the Edison Pen Co.'s Production Line Beaumont provides bang for your buck.
Pen Comparisons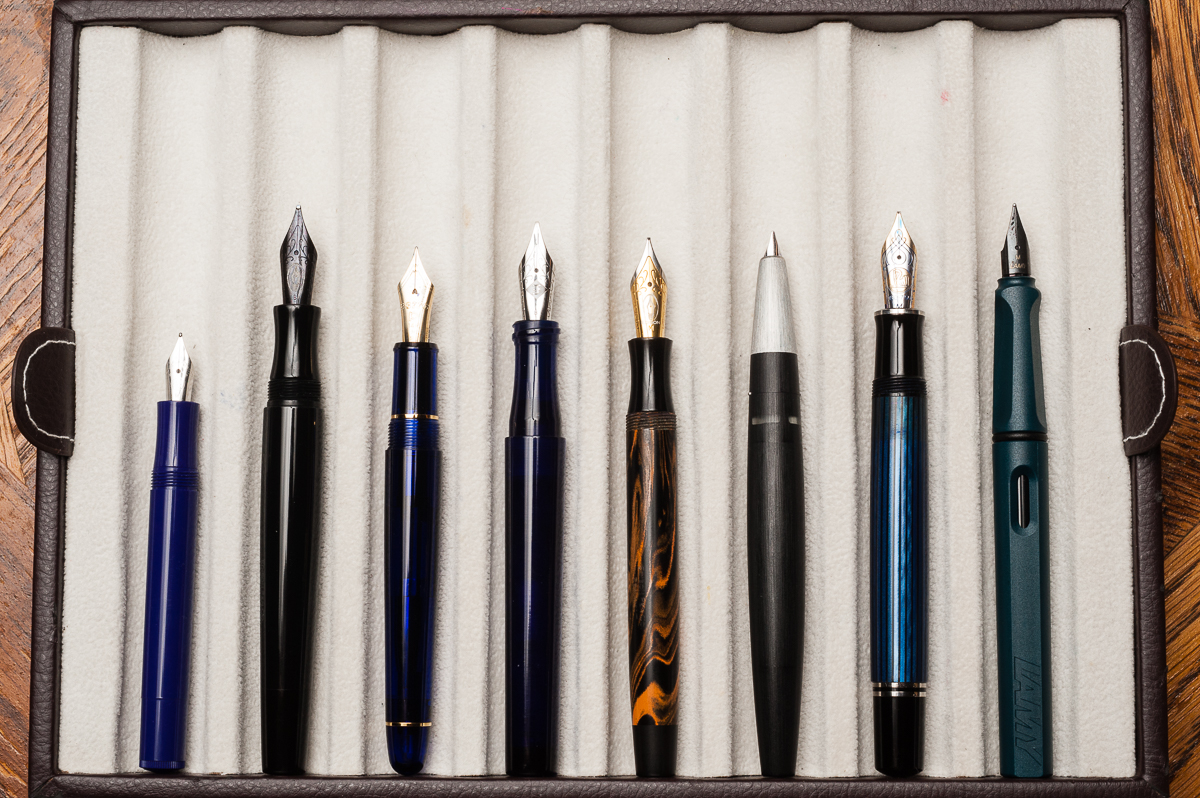 Pen Photos (click to enlarge)