Hand Over That Pen, please!
Katherine: I prefer the aesthetic of the square-ended Optima. I thought this was a pretty boring (or perhaps classic?) looking pen, but in a quite unique shade of grey-purple-ish blue.
Pamela:  The Aurora Flex 88 has a beautiful blue gray material that is somewhat complimented by the yellow gold hardware.  I am curious if a rhodium trim would be a better compliment since the material has a pretty cool tone to it.  Shapewise, the pen is a simple cigar shape that does little to convey how special this pen is given all the hype to the "modern flex" pen.  The clip is a unique fluid design that doesn't appeal to me, but does have a clean aesthetic to it.  My favorite part of the pen is the ink window.  Always a plus for me.
Franz: The Aurora 88 is a visually pleasing pen with a design that makes it timeless. Now this may mean boring for some people …cough… Katherine… cough… ;-P, but the rounded ends look elegant to me. The elongated and tapered barrel makes it a comfortable pen in my hand either posted or unposted.
Going back to the pen being timeless, the Aurora 88 design has been in existence since 1947. Albeit, the original 88 design was a bit thinner, had a slip cap, and a hooded nib. Unfortunately, I do not have any photos of a vintage Aurora 88 but an image search for "vintage Aurora 88" will display adequate photos of it. In the 1980's however, the Aurora 88's design was altered into what it is right now which is a thicker pen, twist cap, a full size nib, and incorporated with their hidden reservoir system.
Note: This pen history information was taken from Andreas Lambrou's "Fountain Pens of the World" book.
The Business End
Katherine: I was excited to try Aurora's much talked about flex nib… but ultimately, I was disappointed. It's a perfectly usable, and even enjoyable and interesting to use… but, to me, it didn't live up to the hype. My Pilot 742 FA is significantly softer and offers me much more line variation, while being a fraction of the price. But, if you like the look of the pen, and like soft nibs, this is great — just not what I'd call "flex".
Pamela: The is a unique shape which provides it the structure needed for this modern flex.  Since this pen was on loan from a friend at the SF Pen Posse, I didn't feel comfortable pushing the limits of this pen.  That said, the "flex" is more of a middle ground; it is not as soft as a vintage flex, but softer than the Platinum soft fine nib.
Franz: I really like the shape of Aurora's nibs especially this fine flex one. The tines are quite longer and cool looking. As for the flex nib and echoing my colleagues above, I feel that it really isn't a match towards vintage flex nibs. There definitely is line variation but not what you would expect when it is called a flexible nib. I did experience some railroading but as long as I took it slow, it didn't reoccur anymore.
Overall, Aurora's nibs are great and I've had pleasant experiences with them from writing with other people's pens. I personally own a factory italic nib that writes quite juicy and sharp. Without any pressure on this fine flex nib, it wrote very smoothly with a fine line.
Write It Up
Katherine: The Aurora 88 is comfortable and enjoyable to write with for long periods. It's quite light, which I find comfortable and usable for long durations.
Pamela:  The 88 is has a very light material, almost too light for me.  However, the girth of the pen is very comfortable to use as it cruises over the pages.  For this particular nib, I held the pen in a tripod grip.  (Yes, even in the tripod, I still grip the pen too tight…).  The length of the pen is pretty comfortable both posted and unposted.  The material is light enough that posting the pen doesn't add too much weight or unbalance the pen.
Franz: I enjoyed my journal time with the Aurora 88. I wrote comfortably with the cap posted for about ten minutes, and then unposted for another ten. I do prefer the cap posted on the pen for the extra length but I did not experience any fatigue even when the pen was unposted. Now that's a rare thing and it's one of the biggest selling points of the 88 for me.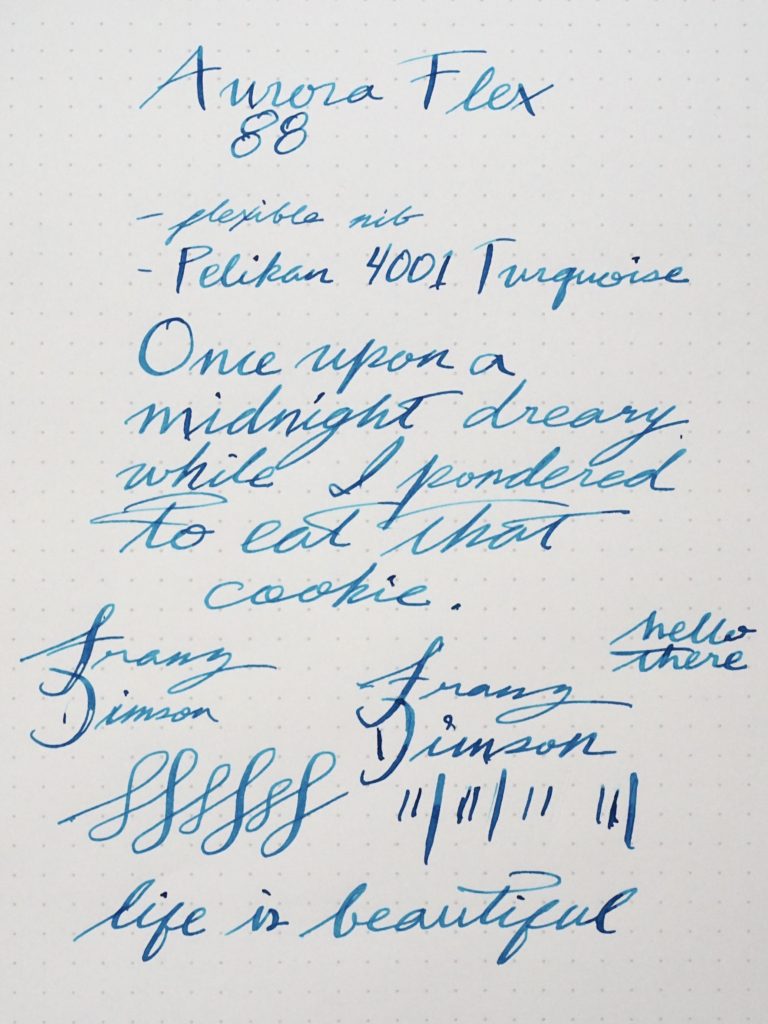 EDC-ness (Every Day Carry)
Katherine: This was a loan from a friend in the San Francisco Pen Posse — so no EDC-ing for me. But, it has all the makings of being a great EDC pen: A solid and strong clip for pockets (though probably not thick denim), and it uncaps quickly, but not too quickly (one and a quarter turns).
Pamela: Since this pen is on loan, I didn't trial this pen on the road at work. Instead, the pen is a good size for a daily carry with a strong clip for suit pockets.  I wouldn't recommend throwing this pen into a pair of jeans as the material will probably get pretty scratched up.  With the relatively unsubstantial weight, it may also be forgotten in a deep pocket somewhere.
Franz: I used the Aurora 88 at my workplace for a good two days and it was a splendid pen for my work setting. The quick deploy of one and a quarter turns made it convenient for me, as well as the fine width of the nib. As I signed my name, I applied a little bit of pressure and the slight flex gave my signature a bit of flair that I enjoyed very much.
The Aurora 88 has a piston-filler system that carries a good amount of ink and is perfect for an everyday use pen. You can see the ink level quite clearly via the ink window. When you're running out of ink, fully extend the piston towards the section to activate the hidden reservoir to be able to write a little bit longer. That is a pretty neat feature.
Final Grip-ping Impressions
Katherine: I have no complaints about this pen, other than the marketing and expectations set by the "flex" label. I'd call this "soft". That aside, it's a smooth, comfortable nib that is capable of some line variation (more than a Platinum 3776 SF, but less than a Pilot 742), in a solid and classic body. But, as with many pens in the $500+ category… whether or not it's worth that price tag is a pretty subjective mater. To me, it's not, but there aren't many options for nibs like this, and if you don't like black Pilots, this is the most line variation I've seen from a modern pen.
Pamela:  I am torn in my final recommendation for this pen.  On one hand, the pen and nib is a modern feat in trying to emulate the infamous vintage flex.  On the other hand, there are still vintage flex nibs and pens out there for a substantially smaller price tag.  I applaud Aurora for adding more flex and softness to the modern nib options and for those individuals who have the funds and the willingness to support such an endeavor, I would highly recommend this pen to them.  For those who lack the funds but still want to try a flex pen, I would recommend taking the time to research vintage pens and flex nibs, and finding a good deal via the Pen Addict slack, reddit or your local pen show.
Franz: It's interesting how the two ladies above and myself have about the same sentiments on the Aurora 88. The pen itself is very nice to write with and my larger hand was not even a bit uncomfortable/fatigued. If you like the shape of this pen like I do, you may currently acquire one below the $500 price point with the round nibs (Extra Fine, Fine, Medium, and Broad). Now if you want the Fine Flex nib option, you'll be paying a premium since the flex nib is only available in their limited edition releases. I mean, that's quite a chunk of money knowing that you can obtain a decent vintage flexible nib for a lot less money. But then of course, the limited edition colors are quite nice as well. The blue finish of this Aurora 88 is very enticing to a blue pen lover like me.
As for my final thoughts on the Aurora 88, I like it. A LOT. This is definitely on my list of pens to one day own and add to my growing Italian pen collection.
Thank you Michael for lending us your Aurora 88 Flex pen. You've been very generous my friend. See you at the Pen Posse meetups soon!
Pen Comparisons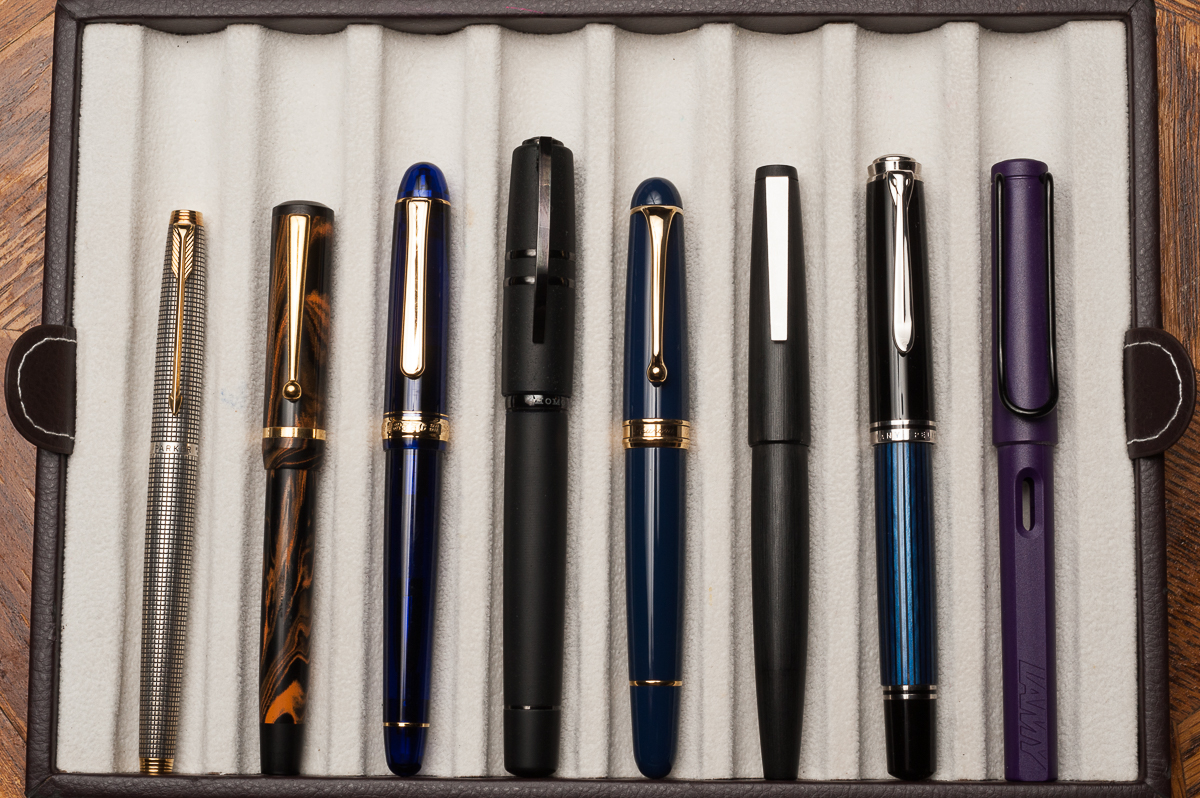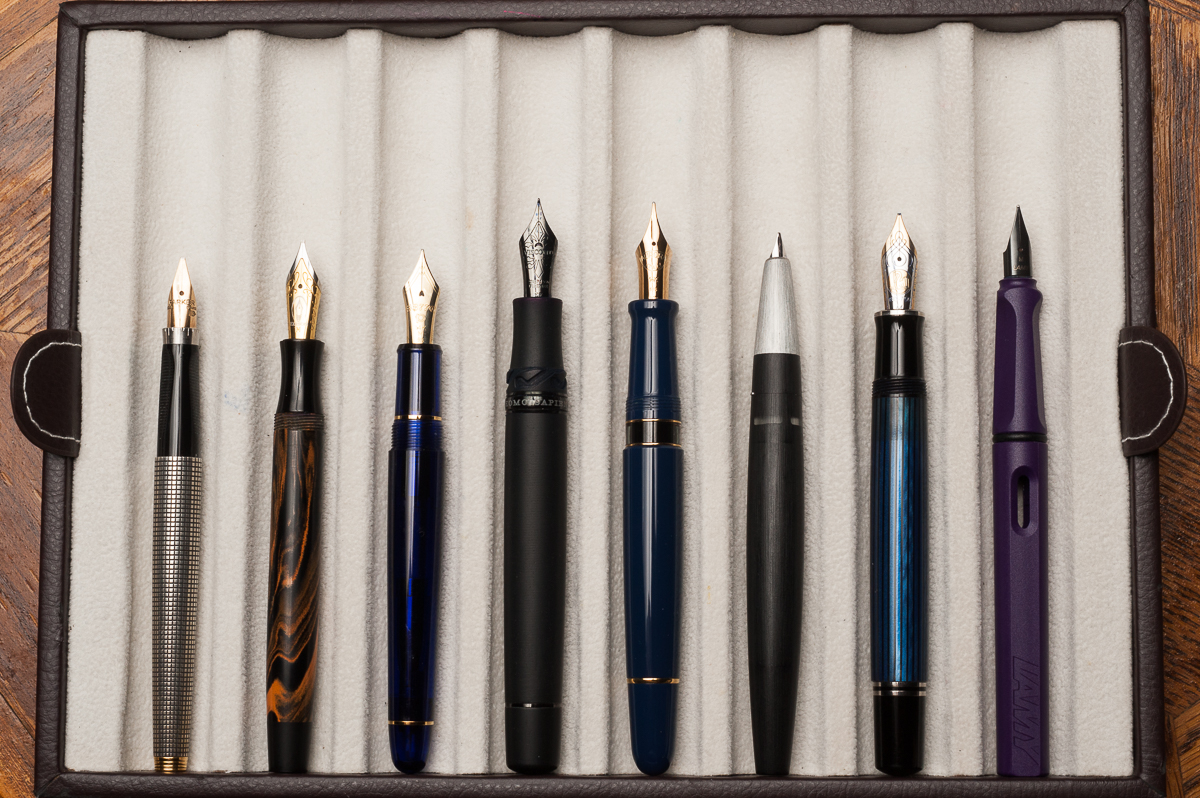 Pen Photos (click to enlarge)